100 Weight Loss Bowls – Power Up 2017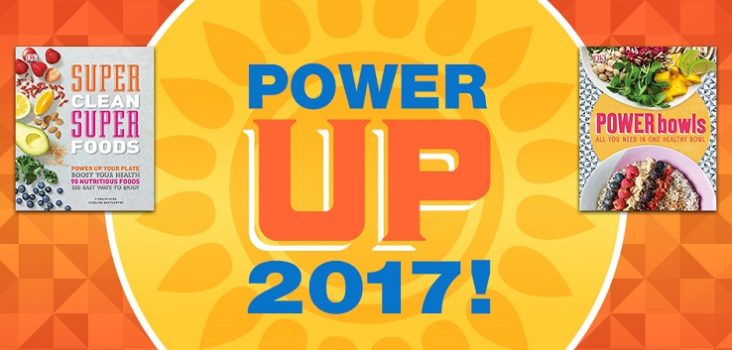 Eating recipes specifically designed to be easily put together in a bowl is a great way to enjoy healthy food and weight loss – this is the basis behind 100 Weight Loss Bowls, featured in DK Canada's Power Up guide.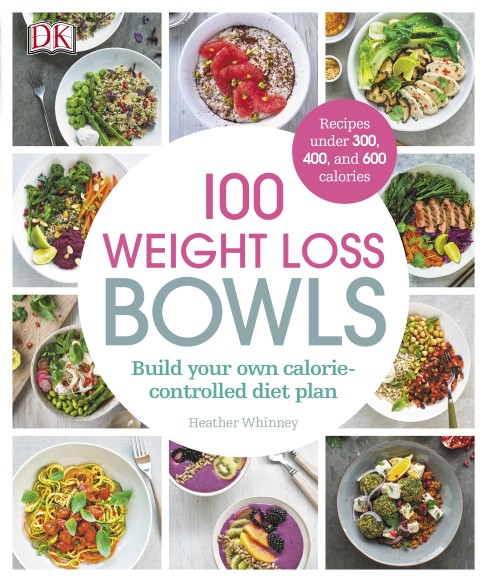 About 100 Weight Loss Bowls
Bowls are a delicious way to lose weight and eat healthy, but they can also be laden with hidden calories. Every recipe in 100 Weight Loss Bowls comes in at under 400, under 500, or under 600 calories. The book is clearly labeled to allow you to easily build a meal plan each day that meets your daily target for gradual and sustained weight loss. The recipes are inspired by the very latest bowl food trends, such as pho, grain, smoothie, rice, poke, acai, and Buddha bowls. They are all color-coded with calorie bands, so you can easily find a nutritious, balanced bowl that suits you. Delicious, simple, and surprisingly indulgent, every bowl in 100 Weight Loss Bowls is guaranteed to be low in calories and high in flavor.
The book includes:
100 delicious recipes and a feast of different bowl types, including pho, Buddha, poke, burrito, grain, rice, smoothie, and acai bowls.
Color-coded recipes by calorie count: either under 400 calories, under 500 calories, or under 600 calories-this makes it easy to select recipes that meet your required calorie intake for the day.
Recipes organized into quick breakfasts, relaxed brunches, portable meals, bowls to create in under 20 minutes, and "instant-assembly" bowls.
Smart tips for shopping, stocking up, prepping ahead, and building a weight-loss plan to suit any age and body type.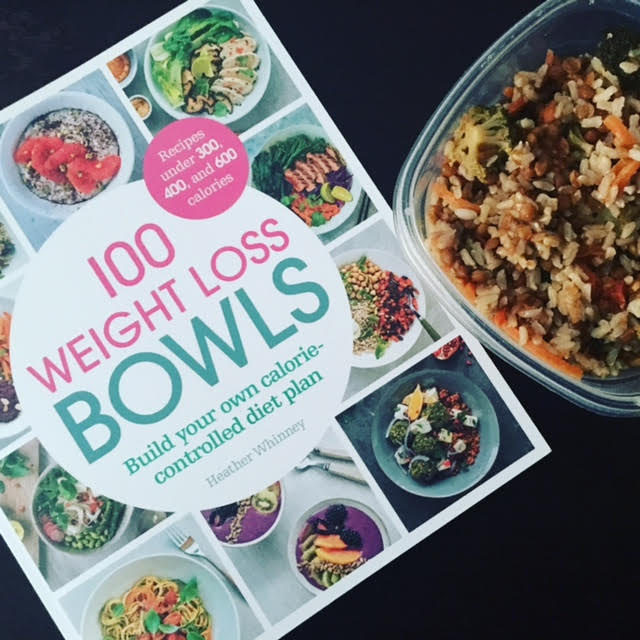 My Thoughts
I was so excited to receive this book! Who doesn't love a healthy bowl of goodness, especially when it helps with weight loss?
This book comes divided into breakfast, on the go and meals more geared at lunch/dinner. They are further divided up into calorie groups (under 600,400,etc..) to better help you figure out where you want to be calorie wise and what options would better suit your diet. All of the recipes were easy to follow, with clear directions and ingredients that you would more than likely have on hand at home. Each recipe also came with a caloric breakdown that included total calories, protein, carbohydrates and fats (which I loved as I base my meals on higher proteins and lower carbohydrates).
The accompanying photographs were bright, large and appetizing! I was hungry just looking through this recipe book. It was hard to pick one to start off with but I narrowed it down to a brown rice and lentil combo to prepare before a night shift. The bowl was delicious and filling for my shift (not to mention easy to make as I prepared dinner for the rest of my family). I love how I can easily build a week's worth of breakfast/lunch/dinner with similar ingredients that doesn't take hours to prepare but still gives me a lot of variety and choices. There was an excellent selection of meat/non meat recipes, as well as a variety of meat options (fish/chicken/turkey, etc..) that will suit the needs of a variety of readers.
This recipe book makes a weight loss plan easy to set up, prepare and follow – it takes all the work away from you! You can purchase a copy of this book on DK Canada.
Rating: 5/5
About the Author
Heather Whinney is an experienced home economist, cookbook writer, and food stylist. She has served as the food editor for several national magazines in England and the United States. She's the author ofCook Express and The Gluten-Free Cookbook (both by DK Books), and she was also the cookery school manager at Cordon Vert in England, where she developed her love of writing recipes.
Disclosure: I received a copy of this book in order to facilitate this review. All opinions expressed are my own.