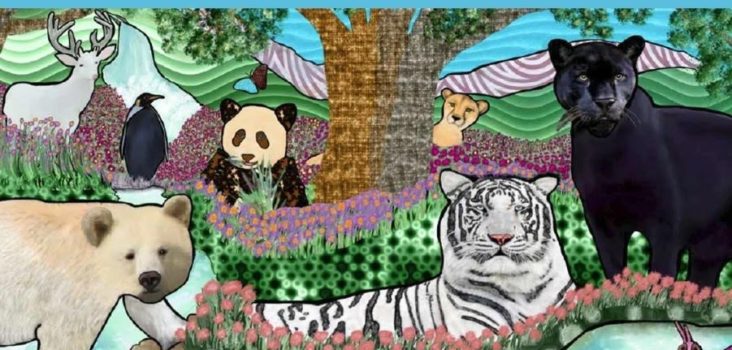 What makes us as humans (and animals) unique? Our genes! Rare Is Everywhere shows us that there are rare species everywhere around us, celebrating their uniqueness and helping children who suffer from rare diseases know that they are not alone.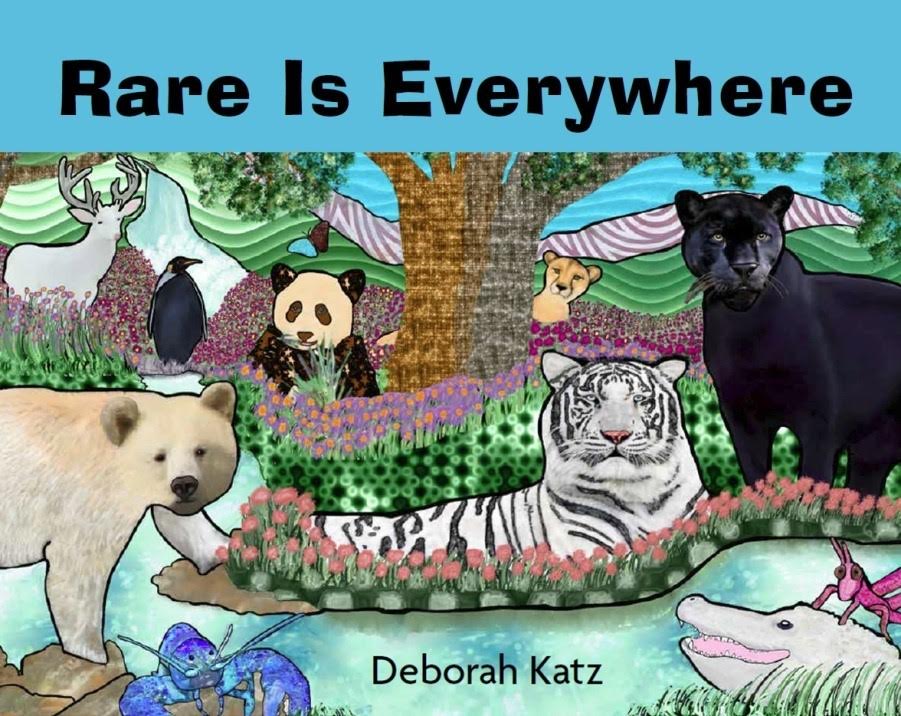 About Rare Is Everywhere
Rare Is Everywhere takes readers on a tour of the animal kingdom, revealing that animals can be very different from the norm. Grasshoppers can be pink, tigers can be white and lobsters can be blue, who knew?! The book showcases eleven animals in vibrant illustrations and poetry to help children recognize and accept diversity in themselves and in others.
Each page features a rare animal alongside its everyday counterpart. The text reveals both their shared traits and their differences. The glossary provides more information about each animal and the genetic changes that shape their appearance.
Changes in genes are responsible for most of the 7,000 rare diseases known today that affect millions of people, the majority of whom are children. Most of these conditions are overlooked and underfunded. Proceeds from the sale of this book will be donated to the Rare Disease Foundation, an international organization that helps people, especially children, with rare diseases.
My Thoughts
While we always teach our children being different is beautiful, sometimes it can be hard for children to understand that their uniqueness is what makes them special. Especially when all they want to do is fit in. It makes it even more difficult when a child is affected by a rare disease. They are trying to navigate their way in school, extra curricular activities and social skills, all while living and treating a rare disease.
I loved how this book shows how special each unique trait and difference is. Being different is special for so many reasons and this book brings this to the forefront. Take for example the albino deer, while it may be hard for the deer in the summer, in the winter this deer has an advantage over its peers because of its colouring. This is what the book explores – that yes they may be different but this difference gives them an advantage and makes them special. I learned quite a bit from this book – I never knew about blue lobsters or pink grasshoppers before! It definitely had us talking as a family about how these changes make us special and deserve to be celebrated.
The illustrations of this book are child friendly with bold lines and bright colours. The writing is perfect for children, easy to read out loud and for children to read along with. The book also includes a page of jokes that we fell in love with, they were really well done and fit in perfectly with the book.
This is a lovely book for all children to read to help celebrate and appreciate differences and all that makes us unique. Even more special, is that proceeds from this book will go to the Rare Disease Foundation. You can learn more about the book here.
Rating: 5/5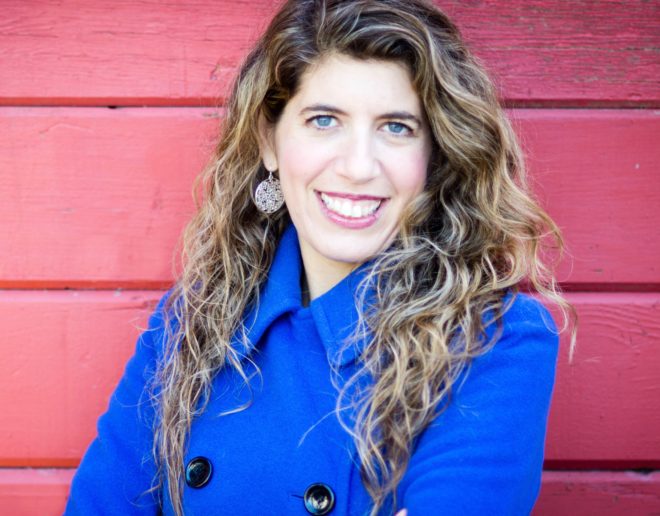 About the Author
Deborah Katz is a Vancouver, BC, nursing professor with nearly twenty years of experience in health care. She is also a writer and an artist whose work has appeared in local galleries and various publications. Before becoming a nurse, Deborah studied wildlife biology and loved learning about the diversity of the animal species and how genetic changes can make them stand out in ways that are beautiful and breathtaking.
About The Rare Disease Foundation
The Rare Disease Foundation (RDF) supports people who have been diagnosed with a rare disease. Their mission is to create communities of patients, caregivers, health care providers, researchers and supports that work together to transform the lives of those living with these diseases.
A rare disease is defined as a condition that affects fewer than one in 2,000 people. There are more than 7,000 known rare diseases in the world and many more that have not been classified. About one in twelve people, nearly 3 million Canadians have a rare disease. Most rare disorders are severe and chronic, with many being life threatening.
The RDF was started in 2007 by a group of parents and doctors in Vancouver BC as a means of finding answers for patients with rare and undiagnosed diseases. In 2008, the RDF became a non profit organization and developed a cross-disease support network for the rare disease community. The RDF has been able to complement their innovative research approach with inclusive social support.
Disclosure: I received a copy of this book in order to facilitate this review. All opinions expressed are my own.