A Duke in Time Book Review
A Duke in Time will have you rooting for leading heroines, searching for lost dowries, and falling for swoon-worthy heroes.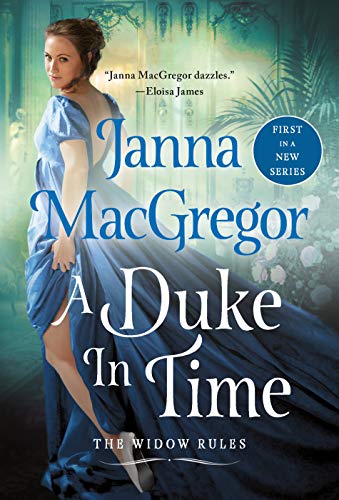 About A Duke in Time
Katherine Vareck is in for the shock of her life when she learns upon her husband Meri's accidental death that he had married two other women. Her entire business, along with a once-in-a-lifetime chance to be a royal supplier, is everything she's been working for and now could be destroyed if word leaks about the three wives.
Meri's far more upstanding brother, Christian, Duke of Randford has no earthly clue how to be of assistance. He spent the better part of his adult years avoiding Meri and the rest of his good-for-nothing family, so to be dragged back into the fold is…problematic. Even more so is the intrepid and beautiful Katherine, whom he cannot be falling for because she's Meri's widow. Or can he?
With a textile business to run and a strong friendship forming with Meri's two other wives, Katherine doesn't have time for much else. But there's something about the warm, but compellingly taciturn Christian that draws her to him. When an opportunity to partner in a business venture brings them even closer, they'll have to face their pasts if they want to share each other's hearts and futures.
My Thoughts
A Duke in Time is an excellent read from start to finish with a plot unlike any other.
Katherine, the wife of a younger brother to the Duke of Randford, was too busy running a successful business to worry about her husband that took off on her wedding night. So when she finds out about his accidental death, she is upset but not heart broken. What comes as the real surprise? He had two other wives! But who is the first wife? And who has any rights in this very tricky situation? And to top it all off, enter Christian, the Duke of Randford, who has spent his life cleaning up after his half brother and even in his passing, he is still doing the same.
I fell in love with our two main characters both who have risen from difficult pasts to try to carve a new future. Christian refuses to be like his Father and step brother, and is hesitant to love and marry. He had also just returned from war and these experiences have taught him a lot about life, the value of human life and inequalities that exist in society. He is determined to help all those who fought for their country but when they returned, they are forgotten because of their social status in society. These soldiers are offered no work, no compensation and are left to suffer with the after affects of war. Katherine had a difficult past, most of which she has spent a lifetime lying about so that she can maintain her successful business and continue to grow (also while helping women in similar situations!). You can feel the attraction between these two characters and they are so perfect for each other, the only problem? Christian's step brother. Would it even be appropriate for Christian to fall in love with Katherine? Does this make him any better?
A Duke in Time is well written, romantic novel full of mystery and suspense. You can't help but fall in love with the two main characters, while also hoping to learn more about our other two mysterious wives. A definite must read novel that does not disappoint!
You can purchase a copy of this book on Amazon.
Rating: 5/5
About the Author
Janna MacGregor was born and raised in the bootheel of Missouri. She is the author of the Cavensham Heiresses series, which begins with The Bad Luck Bride.
Janna credits her darling mom for introducing her to the happily-ever-after world of romance novels. Janna writes stories where compelling and powerful heroines meet and fall in love with their equally matched heroes. She is the mother of triplets and lives in Kansas City with her very own dashing rogue, and two smug, but not surprisingly, perfect pugs. She loves to hear from readers.
Disclosure: I received a digital copy of this book in order to facilitate this review. All opinions expressed are my own.