A Love Letter to Jay Book Review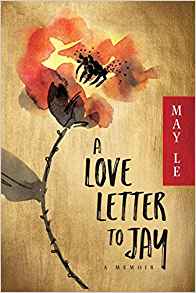 When an unusual love letter arrives nearly 22 years late, in the form of a book, the man who receives it discovers a memoir filled with passion, wit and sensitivity. He also discovers that the book is about him.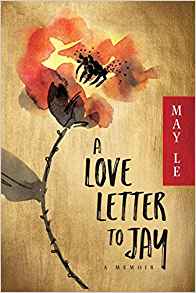 About A Love Letter to Jay
May Le's debut novel, A Love Letter to Jay: A Memoir, is a unique and compelling love story that chronicles the life of a Chinese immigrant— one of six children from Vietnam—who faces one obstacle, one tragedy after another. One Amazon reviewer describes the memoir as "an Amy Tan novel with Horatio Alger undertones. An engrossing story filled with life at its bittersweet best."
A memoir arrives in the mail one day, and the man to whom it's addressed tears it open and begins to read. He quickly realizes the book is about him. It is about her. It is an astounding history of things he never knew. Deeply felt letters of devotion he'd never received fill the pages of the book, containing passionate remembrances of their lovemaking, confessions of secrets never shared, and painful details about the chasm that developed between her and her mother as they clashed over archaic cultural traditions from the old country. And now, reading her words, he begins to piece together the last 22 years.
Jay devours the book, especially the details about a son he still believes is his. When he reads about how she was raped and abused by her husband, his heart breaks, and he begins to understand why he and she were always like two ships passing in a dense foggy night, experiencing only occasional trysts punctuated by long periods of silence. He had always known of her success in business and how she'd overcome so much. After all, he had been her mentor and confidant before he was her lover. He was always proud of her. And he has always been in love with her. Putting the book down on the desk, Jay covers his eyes and begins to cry for what could have been.
May Le's story jumps off the pages with a direct, raw, insightful wit as she recounts her life beginning as a Chinese immigrant to America from Vietnam in 1985. From the death of her father and brother while her mother struggled to support the family of five, to two decades of poverty followed by a brutal rape and coerced marriage to the rapist, a series of misfortunes propels May Le to rise above her circumstances. Ultimately she becomes a successful restaurateur and philanthropist, eventually rediscovering her long-lost love.
My Thoughts
When I finished reading this powerful story, my first thought was wow. I couldn't get over this amazing story of resilience, struggle, hope, faith and family. It was raw, honest but full of understanding and acceptance.
May Le tells a story that so many first and second generation immigrants to North America can more than likely relate to. Family tends to stick to tradition when they find themselves in a new and unknown situation. This was true for May Le. She was stuck in the middle of old traditions and trying to find her way in America. It was these old traditions that forces her to marry a man who raped her and then continues to physically, mentally and emotionally abuse her. We are with her as she struggles for hope and love, as she finds love in Jay but remains in her marriage to appease her Mother and save the family reputation.
The story is written in such a manner that you feel as though you are a part of her story. That you are there with her during her struggles, you want to just reach out to her and give her the confidence and strength she needs to leave her husband. I felt close to May Le and wanted to just reach out and give her a hug. I found myself crying at times and other times my heart was so happy with her.
A Love Letter to Jay is a beautiful, powerful story of rising above all of the negative in our lives to embrace love, hope and happiness. It is a story that you will not want to put down.
You can purchase a copy of this book on Amazon.
Rating: 5/5
Disclosure: I received a digital copy of this book in order to facilitate this review. All opinions expressed are my own.