A Reckless Match Book Review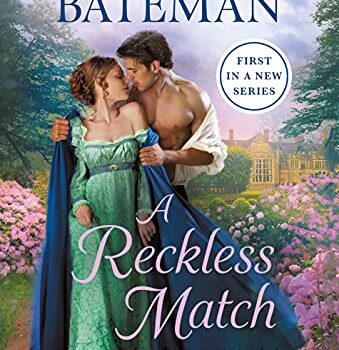 A Reckless Match is the first in a new regency romance series by Kate Bateman about two feuding families, and reunited childhood enemies whose hatred turns to love.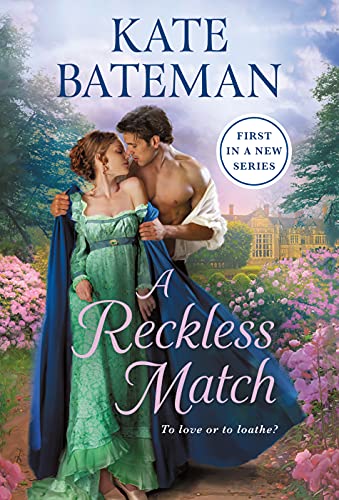 About A Reckless Match
Madeline Montgomery grew up despising––and secretly loving––the roguish Gryffud "Gryff" Davies. Their families have been bitter rivals for hundreds of years, but even if her feelings once crossed the line between love and hate, she's certain Gryff never felt the same. Now, she's too busy saving her family from ruin to think about Gryff and the other "devilish" Davies siblings. Since he's off being scandalous in London, it's not like she'll ever see him again.
As the new Earl of Powys, Gryff Davies planned on spending his post-war life enjoying the pleasures of London. But when an illegal duel forces him to retreat to his family's Welsh castle, he realizes the only exciting thing in the dull countryside will be seeing the fiery Maddie Montgomery. Thoughts of his nemesis sustained Gryff throughout the war; but the girl he loved to tease has grown into a gorgeous, headstrong woman – who loathes him just as much as she ever did. Will secret tunnels, dangerous smugglers, and meddling from their feuding families be enough to make Maddie and Gryff realize that their animosity is really attraction…and maybe even love?
A Reckless Match is the first in a new regency romance series by Kate Bateman about two feuding families, and reunited childhood enemies whose hatred turns to love.
My Thoughts
In A Reckless Match, we have a young man and woman from two feuding families – sworn to hate each other but both whom are very much attracted to each other and trying to hide these feelings.
Madeline will do everything she can to save her family, she is strong, smart and will not give up. I loved her character and her strength and determination. She is not your typical female character from this type period, not feeling any urgency to marry nor to conform to societal norms. She is a beautiful, free spirit that will not let others tell her what to do. That was until she learned of her father's debt and the impact this could have on her life – now she must make some serious decisions to ensure not only her security but her family as well. Enter what sounds like her childhood crush (also her sworn family enemy) and we have instant chemistry.
Together the duo stumble upon secret tunnels, a smuggling business hidden right under their feet and the start of them both acknowledging their feelings for each other. I loved both the seriousness of the situation and the flirty romance that begins between the pair. You can feel the spark between the two of them and how well they would fit together but will it work? Can they move past their family history? And can they overcome what is happening underneath their lands in order to have some sort of future together? The path that the two of them embark upon is full of ups and downs but it is perfect for their story. I loved every moment of this fun romance.
You can purchase a copy of this book on Amazon.
Rating: 4.5/5
About the Author
Kate Bateman, (also writing as K. C. Bateman), is the #1 bestselling author of historical romances, including her RITA® nominated Renaissance romp, The Devil To Pay, the Bow Street Bachelors series This Earl of Mine, To Catch an Earl, and The Princess and the Rogue, along with the novels in the Secrets & Spies series To Steal a Heart, A Raven's Heart, and A Counterfeit Heart. When not writing novels that feature feisty, intelligent heroines and sexy, snarky heroes you want to both strangle and kiss, Kate works as a fine art appraiser and on-screen antiques expert for several popular TV shows in the UK. She splits her time between Illinois and her native England. Follow her on Twitter to learn more.
Disclosure: I received a digital copy of this book in order to facilitate this review. All opinions expressed are my own.