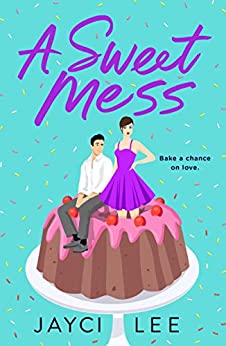 A baker and a food critic – one bad review, lots of chemistry and a cooking show. What could go wrong?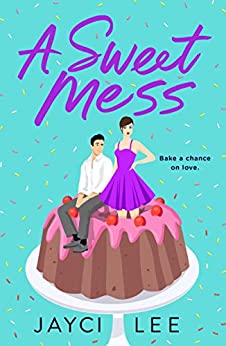 About A Sweet Mess
Aubrey Choi has been content running her highly successful bakery Comfort Zone and with its first expansion taking up all of her time, dating has been the least of her priorities. Then a one-night-stand with gorgeous Korean hunk Landon Kim makes her want things she didn't think she had time for. Too bad it turns out he's a celebrity food critic whose scathing review of Comfort Zone goes viral and nearly destroys Aubrey's business—and her fond memory of their night together.
Landon tries to clean up the mess he made by offering Aubrey a spot on the new celebrity cooking show he's producing. She agrees to use this as a way to save her bakery and her reputation—no thanks to him—but vows to guard her heart. Now Aubrey and Landon find themselves sharing a villa in California wine country, which is a guaranteed recipe for disaster. For the next three weeks, baker and critic will tempt each other as they struggle to resist admitting that they have all the necessary ingredients for love.
My Thoughts
A Sweet Mess was fun, sweet, made me laugh and was a great read from start to finish.
We have Aubrey, the people pleaser, who owns her own bakery and is proud of all that she has accomplished. She has not always had it easy with her family life, but she is a determined young woman who has set out to prove that she can make it in the world. She definitely has done a great job! Her community loves her baking and she has even decided to expand her business into a bigger space (not an easy task for any young person). But all of this spirals out of control when she meets a handsome young man, has a one night stand and then he leaves an awful review of her bakery! Did I mention, he was a famous food critic?? His review has the potential to destroy her business and we can almost immediately see the impact it has.
Everything that Aubrey has worked so hard for with her business could now come crashing down around her, and she will not sit back and let this happen . When Landon realizes his mistake, he tries to make it up to her and the pair start down a very interesting path that involves wine country, a stay together at a beautiful home and a live appearance on a baking show (can't give away too much but it was good!).
The plot was fantastic – full of humour, it was sexy (these two have such a strong connection), but also focuses on some difficult topics (it is done in a way that doesn't leave you feeling overwhelmed). These two had a rough start despite their attraction towards each other, and they would make a perfect couple from what we can see on the outside but can they make it through the drama that surrounds them?
A Sweet Mess is a fun read that is perfect for the summer months, that you can enjoy on the beach or in the backyard by the pool.
You can purchase a copy of this book on Amazon.
Rating: 4/5
About the Author
JAYCI LEE writes poignant, sexy, and laugh-out-loud romance every free second she can scavenge and is semi-retired from her fifteen-year career as a defense litigator. She loves food, wine, and travelling, and incidentally so do her characters. Jayci lives in sunny California with her tall-dark-and-handsome husband, two amazing boys with boundless energy, and a fluffy rescue whose cuteness is a major distraction.
Disclosure: I received a digital copy of this book in order to facilitate this review, all opinions expressed are my own.