All Scot and Bothered Book Review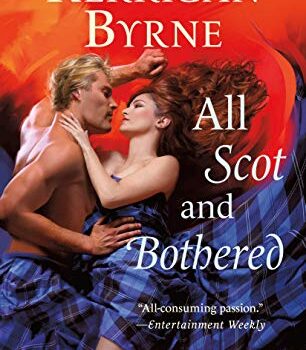 All Scot and Bothered is the second book in the stunning Devil You Know series by USA Today bestselling author Kerrigan Byrne!
About All Scot and Bothered
He is first and foremost—at everything. A man who's made his own way through ruthless cunning and sheer force of will. A strong and imposing Scot who can turn on the charm but does not suffer fools. His title: Lord Chief Justice of the High Court. His name: Cassius Gerard Ramsay. His mission: To investigate the goings-on at London's most notorious gaming hell, owned and operated by one of the most intriguing and desirable women he's ever met.
Cecelia Teague was an orphan facing a rather dire future—until a secret benefactor from her mother's scandalous past swept into her life. Sent to prestigious boarding school and later to university, Cecelia believed high society was at her fingertips…Then, from out of nowhere, she became the inheritor of a gambling establishment. Now Cecelia must live two lives: one as a proper lady who finds herself undeniably drawn to Lord Ramsay and the other as a savvy gaming hell owner trying to save her business from the very same man. He has no idea she is both women…and Cecelia would like to keep it that way. But what happens when consuming passion and escalating danger threaten to reveal the truth?
My Thoughts
All Scot and Bothered has a unique plot that pulls you right in and keeps you on the edge of your seat.
Cecelia had a rough childhood – her Father seemed to hate her just for being born a girl (some of this is tied in to his own past). She was saved from this awful childhood by a beautiful woman in a beautiful dress, who knew her Mom quite well. Cecelia's whole life changed from that moment on and she cherished and embraced every moment. She is a champion of women and those who life on the edge of society – the ones that others look down on just because of their position in society or their career path. When she inherits a gambling establishment, things really get interesting!
Lord Ramsay appears to be a tough person on the outside, he follows the rules and almost seems to be heartless. But under all of that are notes of kindness, someone looking for love that he feels he doesn't deserve. I really loved watching his character evolve throughout the novel, slowly we see him become the man we knew he could be (even if he couldn't see it in himself).
The plot was exciting, full of action, suspense and a side of romance. It is well written, and had me on the edge of my seat. I loved the characters as they were not your typical characters that you would find in a novel set in this time period – they are flawed, they fit outside of societal norms, all of which makes me love them that much more. This was a great read from start to finish.
You can purchase a copy of this book on Amazon.
Rating: 4/5
About the Author
Kerrigan Byrne has done many things to pay the bills, from law enforcement to belly dance instructor. Now she's finally able to have the career she'd decided upon at thirteen when she announced to her very skeptical family that she was going to "grow up to be a romance novelist." Whether she's writing about Celtic Druids, Victorian bad boys, or brash Irish FBI Agents, Kerrigan uses her borderline-obsessive passion for history, her extensive Celtic ancestry, and her love of Shakespeare in almost every story.
Her novels with St. Martin's Press include THE HIGHWAYMAN and THE HUNTER.
She lives at the base of the Rocky Mountains with her handsome husband and three lovely teenage girls, but dreams of settling on the Pacific Coast.
Disclosure: I received a digital copy of this book in order to facilitate this review. All opinions expressed are my own.