At Love's Bidding by Regina Jennings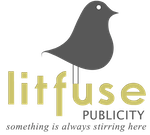 In At Love's Bidding, she sells priceless antiques. He sells livestock by the pound. Is he really the man to make a bid for her heart?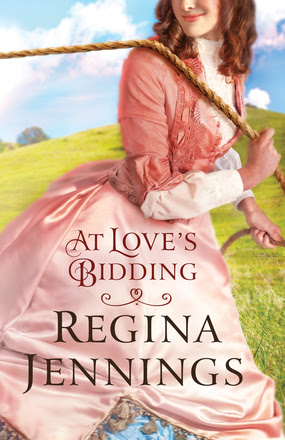 About At Love's Bidding
After helping her grandfather at their Boston auction house, Miranda Wimplegate discovers she's accidentally sold a powerful family's prized portrait to an anonymous bidder. Desperate to appease the people who could ruin them forever, they track it to the Missouri Ozarks and make an outlandish offer to buy the local auction house and all its holdings before the painting can move again.
Upon crossing the country, however, Miranda and her grandfather discover their new auction house doesn't deal in fine antiques, but in livestock. And it's frustratingly handsome manager, Wyatt Ballentine, is annoyed to discover his fussy new bosses don't know a thing about the business he's single-handedly kept afloat. Faced with more heads of cattle than they can count but no mysterious painting Miranda and Wyatt form an unlikely but charged partnership to try to prevent a bad situation from getting worse.
My Thoughts
A historical novel set in a time where a young lady such as Miranda, had very few options for her future. Her interests lie in her family's auction business but this is not a position that society would see her in. She is not quite wealthy enough to be accepted by 'polite' society but too far above the lower class. What sets Miranda above others though is her compassion and kindness, she would do anything for anyone even at the expense of her own pride and happiness.
When she tries to set right an accident that her Grandfather made, she meets the frustrating and mysterious Wyatt, whom we later learn has many more secrets than she would believe. Together they find a partnership and friendship but could it ever be anything more? If society had its way, they would never be together but can they truly break these bonds?
At Love's Bidding is romantic, sweet, funny and heartbreaking (with the slow decline of Miranda's Grandfather). It is hard to know whether their story will be one of happiness or of a heartbreak but every minute is worth it!
You can find more reviews on At Love's Bidding on the Litfuse Blog tour page. You can purchase a copy of the book here.
Rating: 5/5
About the Author
Regina Jennings is a graduate of Oklahoma Baptist University with a degree in English and a history minor. She is the author of A Most Inconvenient Marriage, Sixty Acres and a Bride, and Caught in the Middle, and contributed a novella to A Match Made in Texas. Regina has worked at the Mustang News and First Baptist Church of Mustang, along with time at the Oklahoma National Stockyards and various livestock shows. She now lives outside Oklahoma City, Oklahoma, with her husband and four children.
Disclosure: I received a digital copy of this book in order to facilitate this review. All opinions expressed are my own.