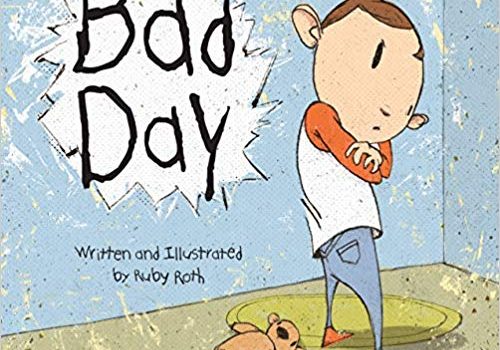 Popular children's book author-illustrator Ruby Roth gives us the heartening story of a little boy who's had a very bad day and just needs some quiet space to work out his feelings in his own way, on his own time.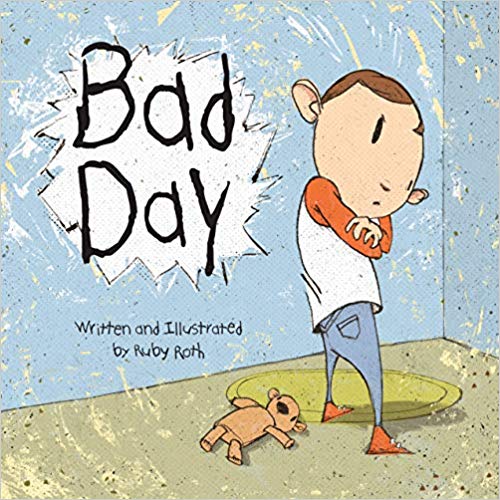 About Bad Day
What do you do when you're feeling overwhelmed?
In Bad Day, things are not going well for Hennie. Small things loom large, going from bad to worse as the day-that-never-ends goes on. But with a deep breath and some quiet reflection, Hennie begins to make sense of his feelings and discovers the power of turning inward. Affirming and funny at wonderfully relatable moments, this timely mindfulness resource helps children process their inner lives, guiding them toward self-empowerment and resilience.
Our Thoughts
I think as parents we can relate to a bad day. Those days where we can't say why we are feeling so down and frustrated but everything upsets us and everything seems wrong. I have had so many of those and even when I try to remind myself to be rational, it can be hard to control those feelings of hurt and frustration.
Now imagine those feelings in a child. A child can find it hard sometimes to express exactly how they are feeling or why they are upset. Sometimes they are just to young to even understand these feelings or even to know the words to describe those feelings. So instead they act out, they may yell, they may cry and they may say things that are not the nicest. As parents, we need to teach them to listen to those feelings, learn how to express themselves and understand that it will get better – all while keeping our own cool, not the easiest task!
This beautiful book is cleverly written so that your child will relate very easily to our main character, Hennie. He is just having the most awful day and all he wants is for everyone to ignore him. I could actually see my own kids in him (and maybe even a bit of myself if I am honest because how many times do we just want to hide some days?). It takes a bit of time but Hennie, after spending some time reflecting, realizes that even bad days have good lessons for us and that we can overcome the worst days by looking at the positive.
I loved how this book gets you talking with your child – use the book to identify some similarities, how we react when things don't go quite our way or when something hurts us and how can we face these feelings and turn our day around. It is that excellent reminder to young children (as well as older children who may need that reminder) that we have the power to turn our bad days into good ones by using positivity and seeing the good in every situation. This is a great tool to start those important discussions with children around feelings, sharing how we feel and how we overcome disappointment.
You can purchase a copy of this book on Amazon.
About the Author
Featured on Today, FOX, CNN, and other major media, Ruby Roth is a Los Angeles-based artist, author-illustrator, activist, and former teacher whose groundbreaking children's books have received international attention and have been translated into multiple languages. She holds degrees in art and American studies and speaks at conferences nationwide. Weaving art together with health, wellness, the environment, and society at large, Roth's work connects the dots between our personal choices and the public realm, showing how our habits can change our lives—and the world we live in. Bad Day is Roth's fifth picture book and her first on issues of emotions and neuro-diversity. For more info, visit http://rubyroth.co.
Disclosure: I received a copy of this book in order to facilitate this review.