Believe and Know by Cathy Bryant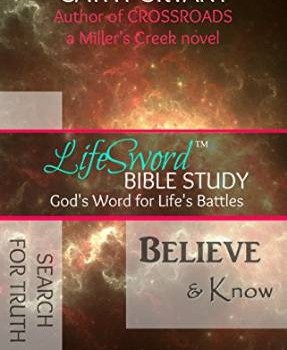 A companion Bible study, Believe and Know by Cathy Bryant asks all the hard and important questions we all ask no matter what faith.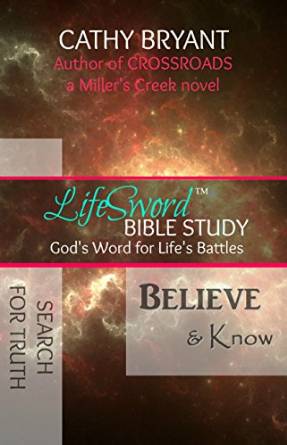 About Believe and Know
Each human being, on their journey and search for truth, must at some point reflect on their life and answer some important questions such as: Why am I here? Is there life beyond life as I now know it? How did the universe and man come into existence, and how does the answer affect me?
We must also carefully consider the avenues open before us. The wrong choice will be detrimental to our current life as well as the life to come. Believe and Know addresses the hard questions and decisions that accompany the search for truth.
It was written with three types of readers in mind: those who struggle with faith, many times because of skewed perceptions or even anger; those who profess faith in the unseen, but find it difficult to live out; and finally those whose faith is strong, but who need information to combat the arguments and questions of others.
My Thoughts
I strongly believe that it is important for all individuals to step back at least weekly from their busy lives to re-focus on God and their faith. In Believe and Know, Cathy helps Christians deal with many of the difficult questions we have in our faith.
Cathy breaks down each section (for example: how do we know the Bible is accurate, why would God want us to suffer,etc.) and includes specific scriptures to read. Each scripture helps to illustrate and defend her points, as well as providing you with your own opportunity to read the scripture to discover your own thoughts on it. Cathy presents valuable and important questions and reflections for individuals in all stages of faith. Believe and Know is not about just reading Bible scriptures but to also work through your faith and understand the meaning of God's love for us. No matter where we are in our faith, it is always important to re-visit God's teaching on His love for us.
An excellent Bible Study guide for individuals in all stages of their faith. Cathy will leave you enlightened and re-examining your own life. You can find more on Believe and Know on her website.
Rating: 4/5

About the Author
Amazon best-selling author Cathy Bryant writes Christian fiction set in the heart of Texas. Her popular romance and romantic suspense novels take place in the fictional town of Miller's Creek, where folks are friendly, the iced tea is sweet, and Mama Beth's front porch beckons. Her debut novel, TEXAS ROADS, was a 2009 ACFW Genesis finalist and has been on the Amazon Best-Seller list. Since then four other stand-alone novels have been added to the series, one of which was a reader-nominated 2013 Grace Award nominee (PILGRIMAGE OF PROMISE). Readers have compared her work to that of Karen Kingsbury and Nicholas Sparks.
A native Texan, Cathy has written devotions for The Upper Room devotional magazine, two devotional books, and for online sites. She also has written two Bible studies that correspond with the spiritual themes of Miller's Creek novels. In addition to her writing, she enjoys thrift store shopping and romping in the great outdoors. To learn more about Cathy and her books, visit her website at www.CatBryant.com.
Disclosure: I received a digital copy of this book in order to facilitate this review. All opinions expressed are my own.