Blood Moon: Fate of the True Vampires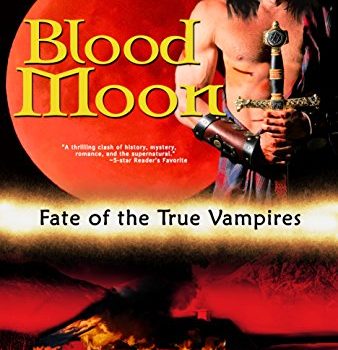 A village burned. Innocent people slaughtered. Two men taken for obscure reasons.
Was the Murder at Glencoe based in politics, Jacobites and clan wars… Or was it something more paranormal in nature? Read the 17th century journals of Wolfe Amus MacDonald Stewart and discover the truth to an age-old mystery.
About Blood Moon: Fate of the True Vampires
1692. Scottish Highlands. Befell the tragedy of Mort Ghlinne Comhann, also known as the Murder at Glencoe.
Despite his own incongruous past, all Wolfe Stewart wants is a simple life, free from the persecutions of the Crown. And when he rescues a Child of the Mist from an "Asian man who disappears into the snow as if he were never there," Wolfe has received his wish. However, mysteries still plague him. He gets no answers, but more questions when a familiar stranger arrives with his cousin and Regiment soldiers to take up the hospitality of the MacDonalds of Glencoe for a fortnight.
Little did the clan suspect what would soon befall them. After the massacre on 13 February, 1692, most MacDonalds lay dead, many exposed to the elements perished, homes burned. Wolfe and his friend Fergus are taken away for reasons unknown.
But why would Campbell and his men commit such a hideous and unholy crime? The truth will not be found in history books. The beast behind this tragic night holds nothing but greed within his heart, and using the Jacobite risings as his cover, he gets what he wants and leaves behind death and suffering.
My Thoughts
Blood Moon is set in a difficult time in Scottish history. The British have taken over and are ruthless in their treatment of the highlanders. The highlanders have been betrayed by some of their own countrymen. This specific time period of this book is set just before the massacre of the MacDonalds clan at Glencoe which was committed by their fellow Scottish that many individuals have questioned why would the Campbells betray their Scottish honour. There have been many views on why this massacre happened during this bloody time in history but this book takes a new angle, a superstitious one, to answer this question.
Wolfe has a mysterious past, despite his Scottish roots he grew up away from Scotland and returned much later with his parents. All he wants in life is to marry, have kids and live peacefully but between the British and a few scheming Scotsmen this may not happen. He rescues a beautiful girl in the book who would become his wife. When she becomes pregnant, his world is complete. But this is when the massacre happens and his wife is murdered in front of him and he is kidnapped.
This is when our story gets complicated (she packs a lot of punch and history in this story!). We learn more about Wolfe's past and how this tragedy unfolds. We learn about the mysterious Asian man with supernatural powers and more about the experiment they conduct on Wolfe and his best friend. An already dark plot gets even more mysterious and evil!
Blood Moon is an exciting, different take on the Scottish highlands and a vampire story which I truly appreciated. Its uniqueness is what made me not want to put it down. I only wish the story had been longer!
You can purchase a copy of this book on Amazon.
Rating: 4/5
About the Author
Writing has always been in Ms. Church's blood. At age 9, she wrote small picture books, taped them together (too young for staples??) and even gave them a publishing house name (Church Books; what else?). To this day, those 'books' sit in storage somewhere. In school, Church could be found in the back of the classroom, writing short stories (and still managing A's in English and Art).
Church's first book, House Cat (non-fiction) was published when an editor who rejected it left the publishing house and the new editor chose Church's manuscript proposal from the previous editor's pile of 200 rejected manuscript proposals, and saw it to publication (plus a Revised Edition 7 years later, which is still on the shelves). From there, Church received offers from Animal Planet (when it was still about animals) and more book assignments. Her book Indoor Cats won the 2001 Iams Responsible Cat Ownership Award.
After working for years honing her fiction skills, Ms. Church made the decision to write a novella, a brainstorm idea introducing a brand new, conceptual and innovative vampire series in a way never before done. As a no-name in fiction, this was a big, bold move. With no cash, no job (on disability), she put the book out all on her own; writing, editing, cover design, formatting, everything. Though far from perfect, this was a big step and a big dream.
Book One received a Finalist Medal in the 2016 Next Generation Indie Book Awards, and Book Two received the 2017 Finalist for the Next Generation Indie Book Award.
Disclosure: I received a digital copy of this book in order to facilitate this review. All opinions expressed are my own.