Buster Bartholomew Benjamin Brown and the Schoolyard Bully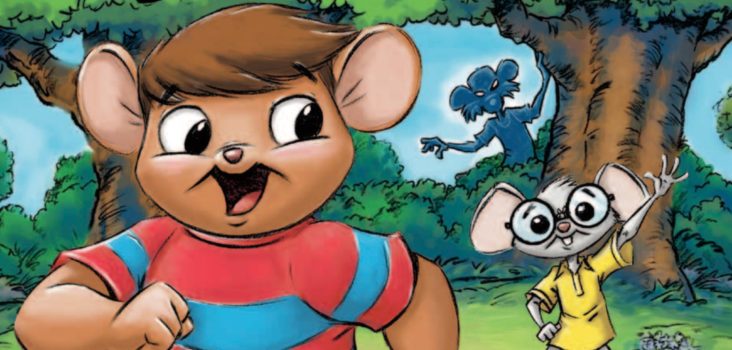 Begin to discuss the important topic of bullying with your child using Buster Bartholomew Benjamin Brown and friends.
About Buster Bartholomew Benjamin Brown and the Schoolyard Bully
Anna Pierri's Buster Bartholomew Benjamin Brown and the Schoolyard Bully is a strong introduction to the concept of bullying through easy-to-read rhymes and vibrant cartoon-style illustrations. In this first book of the series, the reader is introduced to the hero, Buster – a young mouse who's large for his age and has "a heart that's as big as a huge Redwood tree." When trouble (a.k.a. old Rocky Ratnik) comes knocking for his trusty sidekick, Just Billy, Buster learns that dealing with a bully by acting like a bully is not the answer.
My Thoughts
"Because you are bigger and have strength and have might, you should use it for good – not to bully and fight" – Buster Bartholomew Benjamin Brown
That quote sums up this story for me perfectly. It is a fantastic, rhyming story for young children that addresses size, bullying, standing up for yourself but also using our size for good not just to intimidate. Your child will love the rhymes and bright, bold illustrations and you as the parent will love the lessons that they are learning.
We hear a lot about bullying and fighting in schools (and in general) and I know most schools put a lot of effort in to anti-bullying but sometimes the messages just don't seem to go through. Some kids use their size to intimidate others or force them to do something they want them to do. While others may use their size to try to stand up for the weak but this can be just as wrong. Children have to learn to find that balance but also be confident in themselves to stand up and use their voices for change.
This book follows Buster Bartholomew Benjamin Brown (we had so much fun with his name!), who is a mouse that is large for his size and has four sisters. He has a good and kind heart and wants to protect those around him, something to be admired! He meets Just Billy (his new best friend), who is quite small for his age, intelligent but worried he is not as strong and who tends to get picked on by the larger students. Together they make a plan to stop Just Billy from being picked on but it doesn't quite work out as planned as Buster Bartholomew Benjamin Brown appears to be the bully to the school teacher after pushing the real bully to the ground (and very kindly apologizes for wanting to hit the bully, which so many children can relate to!).
This is a wonderful book for you and your child to read together and begin the process of talking about bullying, peer pressure and how to stand up for ourselves. It gives them tools but also allows you to talk to them about what is going on in their own lives and help guide them in their own reactions. This will be a great resource and starting point for parents and children.
You can purchase a copy of this book here.
About the Author
ANNA PIERRI calls Caledon, Ontario, home, where the local wildlife, and especially the mice, give her daily inspiration for her writing. An avid storyteller from a young age, Pierri realized her dream of becoming an author with the Buster Bartholomew Benjamin Brown series. She is also the founder of Ruby Two Shoes Publishing Inc.
About the Illustrator
STEVE SLAWICH's vibrant and animation-style artwork in the Buster series draws from his years of cartooning experience and working with licensed children's products for companies like Nelvana and Disney Studios, where he had a six-year, full-time stint drawing another famous mouse. Slawich currently lives with his wife and son in Huntersville, North Carolina.
Disclosure: I received a copy of this book in order to facilitate this review. All opinions expressed are my own.