Captain LaPlank: The Perfect Pirate Book Review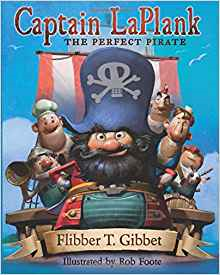 In Captain LaPlank: The Perfect Pirate tells the story of LaPlank as he sets out on adventure with his crew.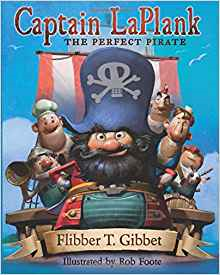 About Captain LaPlank: The Perfect Pirate
This rhyming pirate adventure tells a funny story of LaPlank perfectly captaining his ship as his new crew watches, until one by one they begin making minor mistakes and are shown the plank! It's a classic and timely tale of something our culture today struggles to overcome, the desire to be perfect and in control. At a time when parents and children are bombarded by images in the media of perfect families and extreme athletic, educational, and financial success, we have much to learn from LaPlank's epiphany, "It has nothing to do with ship captains and crews—perfection's not something that pirates can choose. They'd bungled their business but those are the breaks—mistakes are just something that everyone makes!"
Our Thoughts
Mistakes are a normal part of life – stuff happens all the time but it is how we react to these mistakes can make or break us as individuals and our relationships with others.
In this book, LaPlank expects his crew to be beyond perfect – mistakes are never ever allowed to happen and if they do, you walk the plank! No one can do their duties or perform well under these extreme expectations and LaPlank's crew is no exception. One by  one they each make mistakes and it is their turn to walk the plank. It isn't until there is no one left and the Captain has to perform all the duties, that he realizes how unfair he has been. Especially when he finds his own mistake! He learns the error of his way and returns to find his crew and make amends.
This was an excellent, funny book for children. They will laugh at the antics of the Captain but at the same time they learn an excellent lesson on understanding, acceptance and forgiveness. Out of every mistake, we learn something so we should never be afraid to try and make a mistake. Too often children don't feel this, they feel overwhelmed to be perfect. It is important that they understand that perfection is impossible standard to have, instead we should embrace mistakes and share a good laugh over them. This would make a great starting point for parents to have a conversation with their child about mistakes they made, how they fixed them and moved forward.
You can purchase a copy of this book on Amazon. Learn more about this book here.
Rating: 5/5
About the Author
An emerging children's author inspired by Dr. Seuss, Flibber T. Gibbet wrote the whimsical cautionary tale of Captain LaPlank: The Perfect Pirate to inspire perfectionist parents to focus on embracing children doing the best they can, and perhaps they can learn a little something along the way too.
Book Trailer
Disclosure: I received a copy of this book in order to facilitate this review. All opinions expressed are my own.