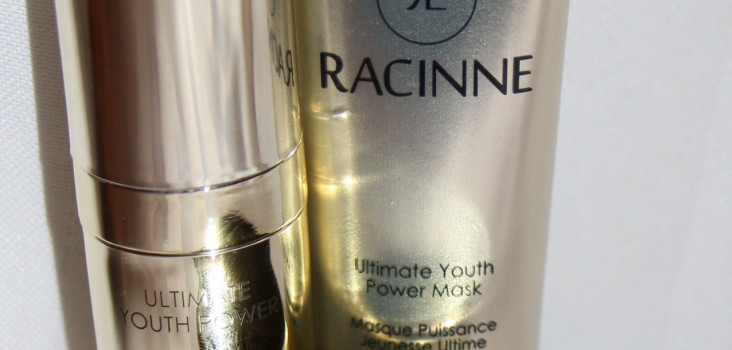 I love my skin care products – they have always played an important role in my skin care routine. A good mask, cleanser, toner and serum is of great importance to me – especially as I get older (to be able to have the skin I had in my teens!!). I have always believed you are never to young to start to take care of your skin and make sure it is at your best so that you feel at your best.
Racinne Canada wants to help women feel beautiful in their own skin and to encourage the appreciation of natural beauty – something every woman should appreciate! We are all beautiful and unique in our way and this should be celebrated. It is important to feel good in our own skin – it is the only we will ever have. Racinne uses seven years of research in biotechnology of rare plant extracts to offer high quality products that will empower you as a woman to celebrate yourself inside and out.
The four lines are:
Youth Power: An anti-aging formula to help restore youthful suppleness.
Hydra Perfection: A deep hydration formula that leaves a healthy and radiant glow.
Aqua Blanc: This formula helps to brighten and reduce hyperpigmentation for a flawless complexion.
Delicare Perfection: A formula designed to protect and comfort the most sensitive skin.
I am currently testing out the Anti Aging Youth Power line and loving it so far. From the gorgeous containers the products come in, to the luxurious feel of the formulas and the softness it leaves my skin feeling after application. The main ingredients in this line are Korean ginseng callus extracts, Adenosine and SH-DP-9 to help promote collagen and elastin synthesis. The formula has been shown to firm and tone skin in as little as four weeks!! My constant fear as I get older is loose skin on my face and wrinkles. I know that is inevitable but I want to fight it as long as possible. I want to look as young as I feel. We need the extra care from these products as we get older to ensure our skin is getting enough moisture and collagen to promote elasticity and that full, plump look to our skin.
The formula itself is lightly scented and covers quite well with only a small amount. Which is perfect as it will last that much longer. I noticed that my skin felt softer to the touch after application which I love – although my constant rubbing my cheeks will probably only cause me breakouts in the long run but it just feels so nice I can not resist!
Racinne Canada and Mom Powered Media is now giving my readers a chance to win a Racinne prize pack with a minimum value of $106.97 CAN. Awesome right? Enter via the Giveaways tool form below – good luck!
Make sure to follow Racinne Canada on Facebook and Twitter!
Disclosure: I received a Racinne Canada anti aging prize pack shown up in order to facilitate this review. All opinions expressed are my own.