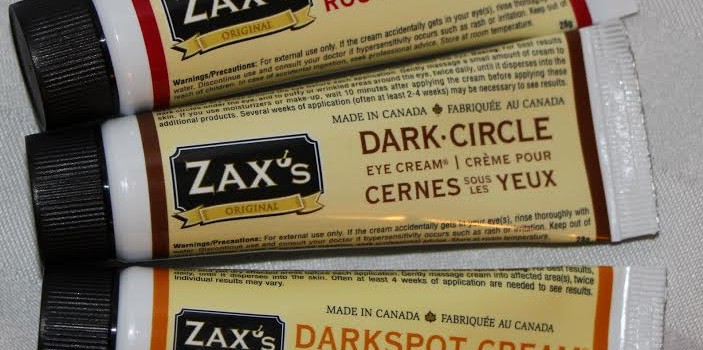 Dark spots, under eye circles, facial redness and bruises. All of these conditions draw attention to the areas we want to hide. There are so many products out on the market that say they will treat these conditions but some may work and others are full of ingredients that we may not want to even put on our body. I know I prefer to use as many natural products as possible.
For the last two months I have been using Zax's all natural Darkspot cream, Dark Circle Cream and Facial Redness Cream. As many of my friends and family know, I suffer with dark eye circles (it has been a constant almost my whole life) and it has always bothered me. No amount of makeup ever seems like it can cover the darkness properly. To match those lovely shiners, my cheeks tend to go red depending on the foods I have eaten. Gluten is the worst culprit for causing this reaction. If I have too much gluten my skin reacts with red bumps on my cheeks (not to mention my arms!).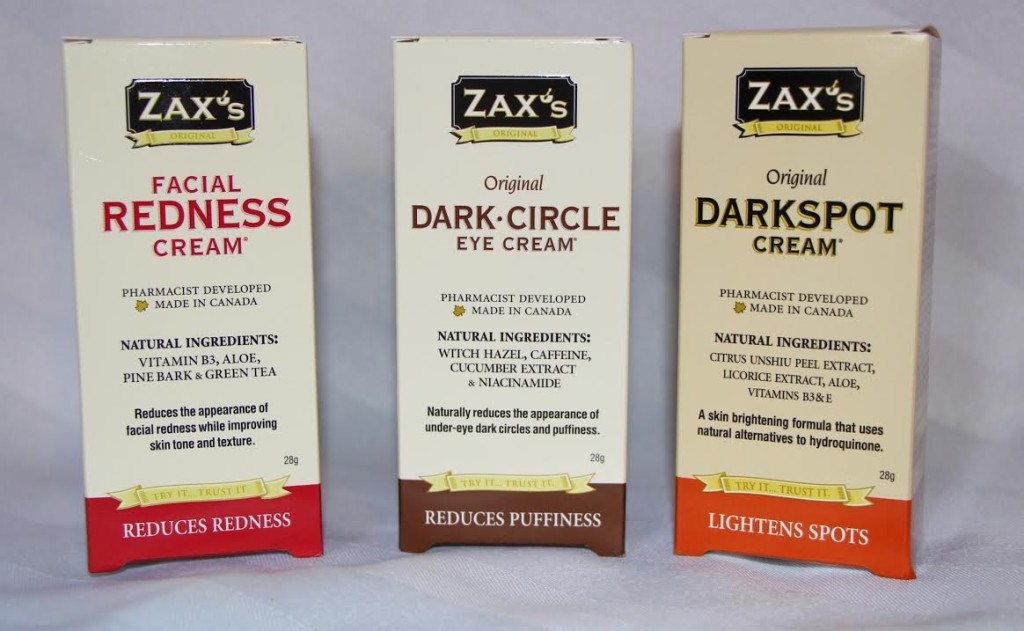 Zax's Dark Circle Cream
Zax's Dark Circle eye cream is designed to reduce puffiness and minimize dark circles to leave your under eyes looking fresh. The cream includes witch hazel (natural astringent), cucumber extract (to soothe and moisturize) and caffeine (anti inflammatory). You should use the cream for four weeks to ensure an adequate amount of time has passed to achieve results.
The cream was easy to apply and only a small amount is needed. I liked the soothing effect it had on my under eyes without a burning sensation. I noticed no strong smell to the cream either which is perfect considering you are applying it on your face close to your nose. I applied this cream twice a day because I loved the way it made my eyes appear less puffy.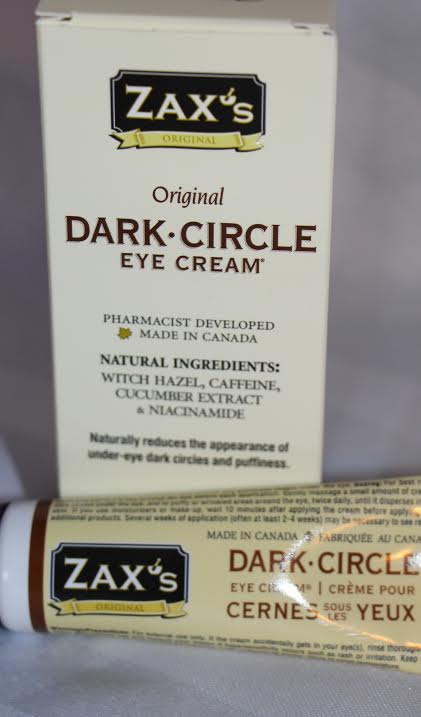 Zax's Darkspot Cream
As we age we tend to develop dark spots, some individuals are luckier than others but I have noticed some areas on my face have developed dark spots (especially along the jaw line!). Zax's dark spot cream is a chemical free skin brightening cream that removes dead skin cells, reduces the appearance of dark skin and moisturizes. The five natural ingredients include: citrus ushiu peel extract (skin lightening effect), licorice extract (UVA and UVB absorption), Aloe (skin lightening effect), vitamin E (anti-oxidant) and niacinamide (unique form of Vitamin B3).
I love using this cream! I have done waxing and electrolysis on my face in the past and I began to notice that the skin on my chin and jaw line is always slightly darker than the rest of my face. Applying this cream to this area over the last two months I have noticed a slight improvement in this area with a brighter look to my face. The cream also has a pleasant citrus smell to it and leaves a nice fresh feeling.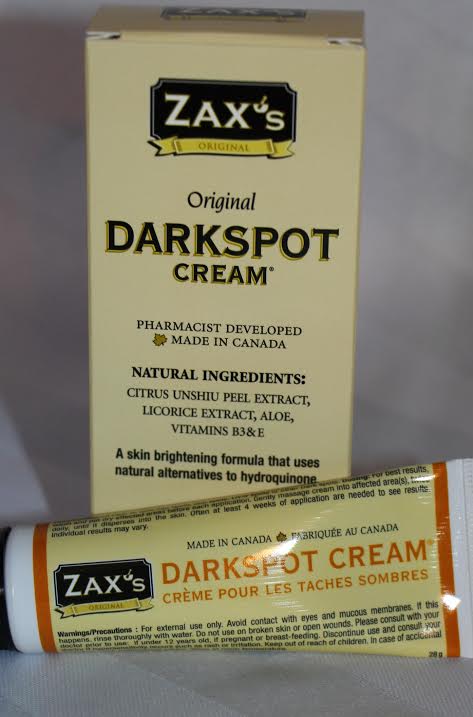 Zax's Facial Redness
Facial redness can occur for a variety of reasons: rosacea, windburn or even dehydrated skin. This cream works to reduce the redness, improve moisture and improve the tone and texture of your skin. The formula includes: pine bark extract (anti inflammatory), aloe (skin soothing properties) and Vitamin E (to treat skin conditions).
There is nothing fun about facial redness. It feels like your face is a beacon to the world and at times makes me very self-conscious. Using the facial redness cream during these times (I did not use it consistently during the two months just when the redness started until it finished) had an almost immediate effect lessening the severity of the redness.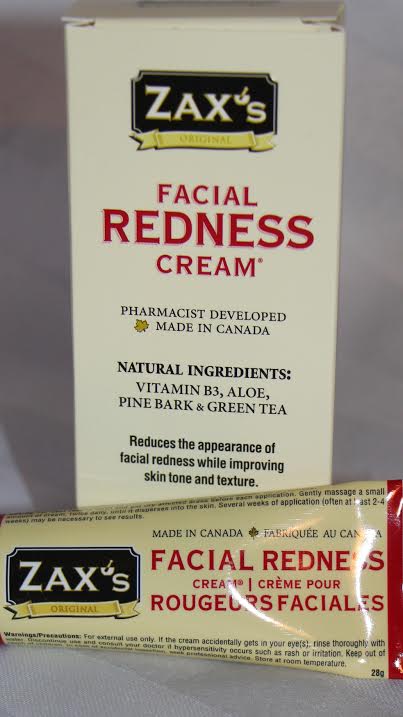 All of these creams are recommended for individuals twelve years of age and older. The best part is that a small amount is required for application allowing the creams to last that much longer!
Zax's is giving you the chance to win your own collection of creams!
This prize pack includes:
Zax's Original heelspur cream
Zax's Facial Redness cream
Zax's Original Bruise cream
Zax's Original Darkspot cream
Zax's Original Dark Eye circle cream
The Giveaway!
Make sure to follow Zax's on Twitter and Facebook for new updates and information.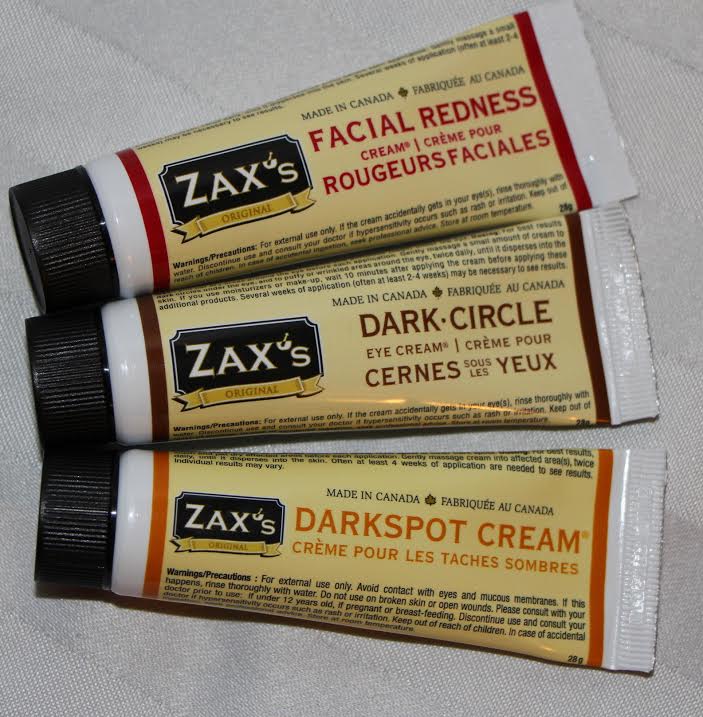 Disclosure: I received the above mentioned products free of charge in order to complete this review. All opinions expressed are my own.