Come face-to-face with 150 of the world's scariest killer creatures, from the lion and great white shark to the tarantula, anaconda snake, golden eagle, vampire bat, and even the fierce ant!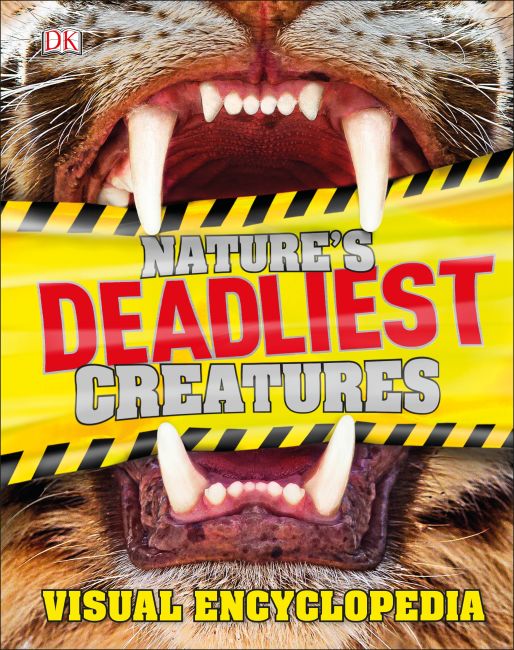 About Nature's Deadliest Creatures
The book profiles every kind of animal–mammals, reptiles, birds, fish, insects, and arachnids. Chapters are arranged according to how these dangerous predators kill. Do they use jaws and claws, venom, stings, traps, tricks and cunning, or mass invasion?
With more than 200 spectacular photos in the book, every page has a stunning image of the animal in action, with data files giving a visual guide to its size, distribution, diet, and habitat, as well as a rating of its "scare factor."
Each profile features bite-size text that will appeal to all readers. Discover key facts about how the animal lives (is it solitary or a pack animal?), intriguing anatomy (the platypus is famously one of the few venomous mammals, but did you know that the venom comes from the hind leg on the males only?), and of course, their method of attack (such as chasing prey to exhaustion, launching an ambush, or paralyzing with poison).
My Thoughts
With two boys at home who love animals and all things scary, this book was bound to be a huge hit. We watch so many documentaries around the scariest, most dangerous animals that they couldn't wait to read more about these terrifying creatures. What I wasn't expecting was just how much we would learn.
The book is hardcover and just slightly smaller then letter sized per a page. The contents of the book are broken down into the following categories: muscles/jaws/claws, venomous bites, stings/poisons, trapped, deceivers/tricksters, deadly numbers, skills/tactics/cunning and disease/destruction. You can jump to a specific animal or section or read the book from start to finish, the choice is really yours. You can start one section, come back the next night – it would make a great nightly read just before bed time as well. The book also contains a danger factor scale rating from one to five for each animal.
There are few animals that you expect to find on the list (great white shark, tiger, wolverine, black mamba) but there are a few that surprised me like the leopard seal and humpback whale. Our youngest immediately jumped to the black mamba but then we began to explore the rest of the animals that we were not familiar with. We learned a lot about new animals, like the Sydney funnel web spider, hooded pitohui, antlion larva and the flower crab spider just to name a few! I loved the name of the flower crab spider, it sounded so pretty!
Each animal has at a minimum one page dedicated to them where we learn about their size, range, diet and a history on them. Some pages even include special facts about the animal, for example, I learned that the newt lifts its head, legs and tail to flash a yellow underside when it feels threatened. The pictures are bold and full of colour, capturing and demanding attention.
This is an excellent book for young children who will love spending their time learning about deadly creatures that roam our planet. They will learn about the familiar animals to them and so much more. It is the perfect gift for the child who loves animals, adventure and the exploring the world around them.
You can purchase a copy of this book on Amazon and Chapters.
Disclosure: I received a copy of this book in order to facilitate this review. All opinions expressed are my own.