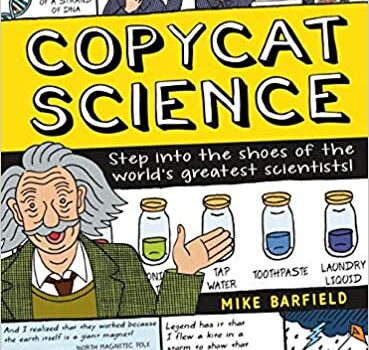 Step in the shoes of the world's greatest scientists in Copycat Science.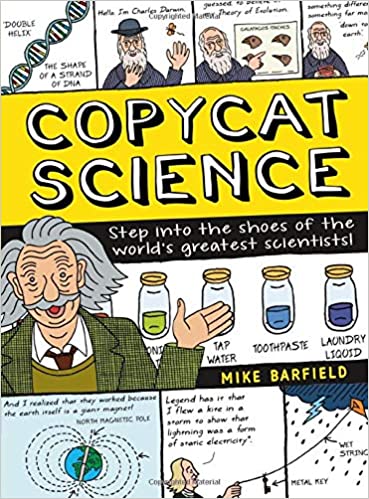 About Copycat Science
This unique book of simple and safe STEM-related experiments and activities is presented in fun comic strip style. Each experiment or activity follows a cartoon life history of a figure from science, math's or engineering so that the reader can relate their experiment to science done by actual people.
This graphic, comic style book puts an emphasis on fun, and encourages readers to try it out at home, while the diverse range of scientists included will inspire all readers to become hands on.
Our Thoughts
I love the sciences and feel strongly that it is so important for children to be exposed to the topics at a young age. Science should be fun (because it is!) and age appropriate, find what engages your child and go with it.
Copycat Science is a fun, engaging book for youth that connects with them in a way they can appreciate – a comic/cartoon style. It is written in a fun and easy style that makes it easy for young readers to follow along with (and parents too!) but still provides key concepts and figures. Each two page spread features a scientist on the first page and an experiment on the second page. Visually the illustrations are excellent and typical of a comic strip.
Some of the scientists you may know, but others will be new to you – I never knew about Laura Bassi 'the First Lady of Physics' or Ibn Al-Haytham, the 'Arabian Visionary' (so not only were we learning about science but also about history). The experiments were easy to re-create and for the most part, you can complete them with items found around your home. I loved this aspect, because there is nothing worse than coming home with a book of experiments to have to go back out to get supplies.
Copycat Science is a fun, engaging new way to get your child interested in the sciences and getting hands on at home.
You can purchase a copy of this book on Amazon.
About the Author
Mike Barfield is a writer, poet, performer, songwriter, ukulele player, and cartoonist. He has written extensively for TV and radio – with credits as diverse as Spitting Image, The Dennis the Menace and Gnasher Show and five years on Who Wants To Be A Millionaire. His cartoon feature Apparently has appeared in the pages of Private Eye for over 20 years, and his drawings have been on display in the Cartoon Museum, the V & A, the Museum of London, and Nigella Lawson's downstairs loo.
His Destroy This Book series (published by Buster Books) has been sold around the world, starting with the Destroy This Book In The Name of Science! The Element in the Room (Lawrence King, 2018) which was shortlisted for the Blue Peter Book Awards 2019.
Disclosure: I received a copy of this book in order to facilitate this review. All opinions expressed are my own.