Christmas Angels Book Review
A heartwarming Christmas story filled with the magic and miracles of the holiday season by USA Today Bestselling author, Nancy Naigle.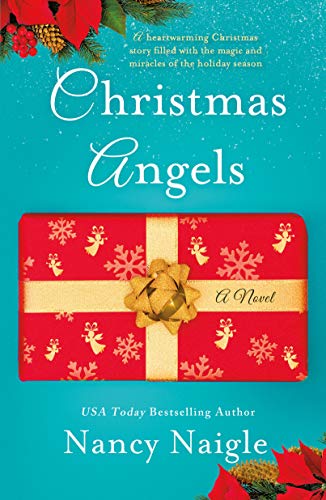 About Christmas Angels
Growing up, Liz Westmoreland dreamed of taking over her grandparents inn located in the small mountain town of Antler Creek only for it to be sold before she ever got the chance. While browsing the internet, she stumbles upon a listing for what looks to be the picturesque inn and it's set to go to auction. Liz places a bid, and by a miracle, wins the auction. But when she gets there she finds the property in significant disrepair.
When Matt Hardy narrowly lost the inn and property that butted his land, he just hoped it wasn't another city slicker coming to make matters worse after the previous owners gutted the place for an art gallery. But the minute he recognized the sweet, freckle-faced girl from his childhood and heard her plans to reopen the inn, he jumps at the chance to help his childhood crush restore a place where he made so many fond memories.
While working on repairs, Liz and Matt discover her grandmother's collection of angels in one of the cabins. When the angels start mysteriously showing up all over the inn, she begins to look at them as reassurance—that restoring the inn is what she's meant to do. But when an accident leaves Liz feeling like she made a mistake, will Matt—and the residents of Antler Creek—be able to show Liz that she's found a home? And possibly true love as well?
My Thoughts
Liz did not have the typical childhood that you would expect and this has influenced the way she lives her life. She loves her parents but it was her grandparents that instilled the importance of family and what a family really means. Her best memories from her childhood were centered around her grandparents and the inn that they ran in their small town.
When she finds that the inn is up for auction, she bids for it and is successful. She does this against the advice of her friends, colleagues and even her own parents. There is something about the property that makes her feel at peace and at home. Nothing could have prepared her for what she was about to see. The previous owners gutted and tore out so many features of the home that she loved. She is devastated and unsure if she can accomplish everything that needs to be done.
When all seems impossible enter Matt – sweet, kind and thoughtful (he melted my heart!). He had a huge crush on Liz as a child and is more than happy to help her with her new project (and you can see how much he still cares for her even if Liz has blinders on). He wants her to remember her family, the good in people (you can rely on others) and the joy in the simple moments.
This is an absolute beautiful novel that makes you laugh, cry and hope for the best. Family is so important and this novel reminds you of all those cherished memories from years ago. You are rooting for Liz and Matt – you want her to find her happiness and dreams, even if she is stubborn to see it right in front of her. It is a beautiful story of starting over, finding happiness and peace in the storm of life. It not only makes a great holiday read but a fantastic year round read.
You can purchase a copy of this book on Amazon.
Rating: 4.5/5
About the Author
USA Today bestselling author NANCY NAIGLE whips up small-town love stories with a dash of suspense and a whole lot of heart. Now happily retired, she devotes her time to writing, antiquing, and the occasional spa day with friends. A native of Virginia Beach, she currently calls North Carolina home. Some of her other titles include The Secret Ingredient, Christmas in Evergreen: Letters to Santa, and Recipe for Romance.
Disclosure: I received a digital copy of this book in order to facilitate this review. All opinions expressed are my own.