Christmas at the Chalet Book Review
Christmas at the Chalet is a delicious love story about a bridal designer showing her new collection in the Alps during the magical week of Christmas where hijinx of the heart ensue.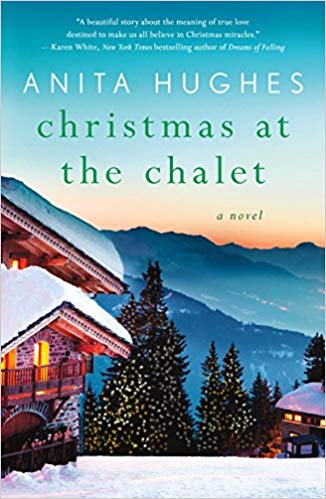 About Christmas at the Chalet
It's the day after Christmas, and Felicity Grant is at a gorgeous ski chalet in St. Moritz for the biggest fashion show of her career. Felicity is a rising star on the bridal design scene, and this is her best collection yet. But when her boyfriend gives her a spa day instead of a diamond ring for Christmas, she has to face the possibility that she may never walk down the aisle in one of her own stunning designs.
And then there's Nell, the top model headlining Felicity's show. Nell is planning her dream wedding to her wonderful fiance with one catch: her divorced parents can't stand each other and threaten to no-show if the other is there.
Add to that Felicity's race against the clock to create a special gown for a prestigious bridal salon, and what both girls need is a Christmas miracle. What better place to find one than in the Swiss Alps with its dark forests and sparkling vistas?
But for Felicity it's hard to recognize a miracle even when it's right in front of her, and for Nell one miracle might not be enough to fix the past. Can dreams really come true or is that the stuff of Swiss fairy tales?
My Thoughts
Take a trip to the stunning St. Mortiz for a fashion show of a lifetime with some incredible characters that will make you laugh and hope that they can push past the stress of the perfect day.
Felicity is a kind, loving woman who has grown her wedding gown business literally from scratch. She gives her heart and soul to her work, she wants nothing more than to create a beautiful dress that suits a bride. She has also been in a relationship with her boyfriend for several years and she is extremely disappointed when Christmas is around the corner and he fails to propose again. She questions whether he truly loves her or is just comfortable with her and if he puts his career before her, her feelings and their future together. All of this occurs just before she heads off to St. Mortiz for her huge fashion show and you have to give her a lot of credit for being able to push through the hurt and disappointment in order to not let down her friends and business partners.
One of her models, Nell, is another star in this novel. She is engaged and ready to start her life with the man she loves. The only problem? Her bitter, divorced parents who can't seem to get over their own selfish needs to put their daughter first. They refuse to attend the wedding together, they constantly say inappropriate comments about the other parent to Nell thus placing her in a very awkward position. As the novel progresses, we are witness to her parent's past to get a glimpse of how they could have grown so far apart and so full of hate.
I really enjoyed this sweet novel. It was full of hope and humour – you keep rooting that our characters can make it through and find the love they deserve.
You can purchase a copy of this book on Amazon.
Rating: 4/5
About the Author
ANITA HUGHES is also the author of Christmas in London, Christmas in Paris, Emerald Coast, White Sand, Blue Sea, Santorini Sunsets, Island in the Sea, Rome in Love, French Coast, Lake Como, Market Street, and Monarch Beach. She attended UC Berkeley's Masters in Creative Writing Program, and lives in Dana Point, California, where she is at work on her next novel.
Disclosure: I received a digital copy of this book in order to facilitate this review. All opinions expressed are my own.