Christmas at Two Love Lane Book Review
In Christmas at Two Love Lane, the best gift of all is the one you share with someone else.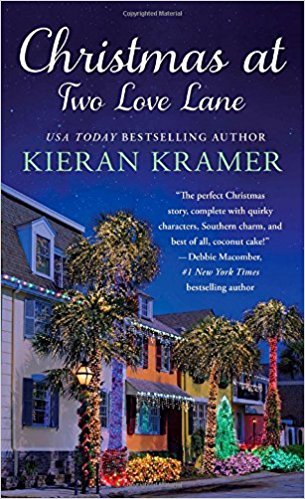 About Christmas at Two Love Lane
From the moment he strode through the iron gate and into the offices of Two Love Lane on a crisp December day, it was obvious that Deacon Banks was something different. He wasn't a Charleston native, not with that adorable Yankee accent. And unlike the usual client at the elegant matchmaking agency, he had no interest in finding a woman to marry―just a few no-strings dates while he was in town.
Macy Frost takes her professional services very seriously―how could she not, when she's rumored to be a direct descendant of Cupid? Tech entrepreneur Deacon says he's just trying to make his social-climbing aunt happy by being seen out and about with a few prominent beauties, but Macy insists she can make her client fall in love…for real. And Deacon can't help but think she might be right. As charming as the palmetto trees and magnificent harbor may be, it's the beautiful, breath-of-fresh-air Macy who's become Deacon's favorite part of the scenery. But can the hopelessly romantic Southern belle stop trying to fix him up and just let Cupid do his work on her own heart?
My Thoughts
Christmas at Two Love Lane follows the story of Macy (our legendary match maker) and the ultra sexy tech guy Deacon. These two are polar opposites in so many ways but sparks fly when these two meet!
Macy is a Southern Belle. She is in love with the concept of love and has this ultimate fairytale romance played out in her mind, which means that she has a hard time settling for anything else. She is also the town matchmaker (with a rough family history of being related to Cupid?!). She is one of the owners of the local matchmaking agency. I love her confidence, her strength and her desire to wait for the love of her life.
Deacon on the other hand seems to be running from love. To make his Aunt happy, he has agreed to go on a few staged dates (although his Aunt has no idea they are staged). He is happy being single and wants to keep it that way. He feels the strong attraction to Macy but is terrified of his feelings. We watch him struggle with his attraction throughout the novel.
Christmas at Two Love Lane is a fun, steamy novel that has a slow build but well worth it in the end. We watch our two main characters struggle to understand and deal with their attraction. Sometimes this lands them in the funniest of situations! You will find yourself laughing, shaking your head and wishing for more. I really hope there is a second installment as I would love to see what happens with this couple in the future (and all of our other amazing characters in this story).
You can purchase a copy of this book on Amazon and SMP Romance.
Rating: 4.5/5
About the Author
Kieran Kramer, author of the Impossible Bachelors series, was born in Washington, D.C. to an Air
Force pilot father and actress/singer mother. She grew up mainly on Johns Island, a rural sea island near Charleston, South Carolina, where she helped build her family's log home. Having worked for the CIA and as journalist for The Charlotte Observer, Kieran is now a stay-at- home mom. She once won $34,000 on Wheel of Fortune, and also won on Family Feud. She's been married to her naval officer husband, Chuck, for twenty-one years, and they have three children.
Disclosure: I received a digital copy of this book in order to facilitate this review. All opinions expressed are my own.