Coinman An Untold Conspiracy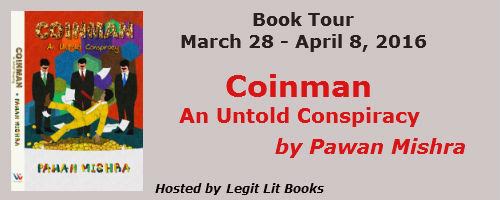 Author: Pawan Mishra
Publisher: Lune Spark LLC
Date Published: Nov 04, 2015
Number of pages: 236
 
Genre: Fiction/ Humor/ Satire
Book Description:
An Untold Conspiracy is a humorous account of a man with a quirk–and
the extraordinary measures his colleagues take to combat it!
Set in a small town in northern India, this story follows Coinman, his peculiar habit and the incredible animosity it provokes in everyone around him. He just wants to do his clerk's job with colleagues who'll treat him fairly. He just wants a wife who will treat him like a husband. He just wants a happy home life. Instead, what does he get?
His colleagues are planning his complete destruction.
His wife is an obsessed actress more than a little "off plumb."
And there are enough shadows and secrets in his home for two lifetimes.
Can Coinman ever get what he wants? Or will that cost him his sanity?
Purchase a copy on Amazon.
Quotes from Coinman: "Isn't life a collection of weird quizzes with no answers to half the questions?" "The only thing God is afraid of is a strong-willed human!"
"People say there are thousands of options we have in life. I say we have only two: we can either be happy or be unhappy."
"Talented minds have always been stealthily targeted by mediocre ones."
Pawan
Mishra is a leader in the technology and finance industries. He
completed his education, including postgraduate work, at Indian
Institute of Technology, Kanpur (IIT Kanpur), India, in 1999. He
discovered his passion for storytelling, reading, and creative writing
during his early childhood. Originally from Aligarh, India, Pawan now
lives in Morrisville, North Carolina, with his wife Ritu and two
daughters, Mitali and Myra.