Collect and Battle with the Awesome Little Green Men

My kids love to create battle scenes and whenever their cousins come over, our toy room becomes a huge battle ground. We have soldiers versus soldiers, soldiers versus superheros – anything is game!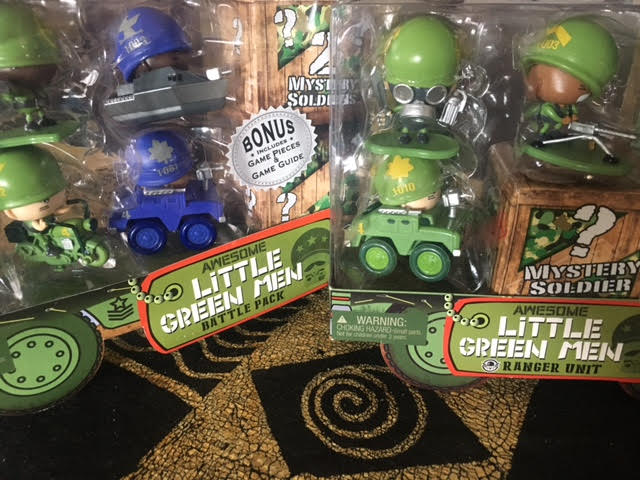 Awesome Little Green Men bring a whole new take on your typical soldier figure. These small little figures are full of spunk and authority! These characters, both male AND female, are truly epic with fantastic features and even better names (Sgt. Major Attitude and Major Boo Book to name a few!).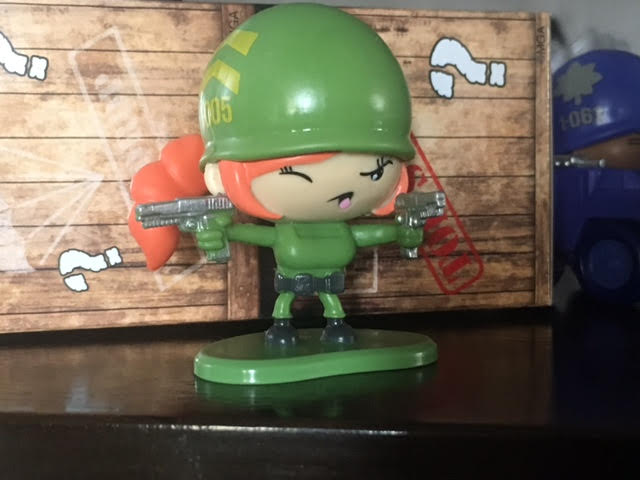 Your child can create their own battles OR follow the super easy Battle Game Guide (which can also be found online). Each player picks their army so that each player has the same amount of power points, which can be found on the bottom of each soldier. They also require a small coin, large coin (which are included in the packs) and a "prized possession" – which can be anything but each player should have an equal sized possession that becomes the goal to capture. The smaller coin becomes the attacking slider and the larger coin the march slider.
Your child should set up either on the floor (no carpet!) or a long table in order to have a good-sized battle. The youngest player always goes first (this is actually in the rules not just our youngest making it up). Each player can use their march slider to advance their soldiers or their attack slider to hit an enemy soldier. They have to hit the enemy enough times to match their Hit Points in order to capture that soldier. The main mission is to capture the prize behind the soldiers but if your children are anything like mine they will love the marching and attacking just as much if not more. All the obstacles and bandaids that you will need for your attack are included in the package or you can print them online.
The boys even made up their own battles too which was pretty awesome and fun. They enjoyed battling just as much as they did playing and setting up their characters in their rooms. The characters are well designed and they loved showcasing and just carrying them around as is.
Check out this video showcasing these adorable and spunky characters:
You can purchase Awesome Little Green Men at Toys R Us, Amazon and Walmart. They are sold in starter packs of four, deluxe battle packs and blind box. The starter packs include 4 soldiers, 4 dog tags, 1 chain and a collector poster. The deluxe battle pack includes 8 soldiers, 8 dog tags, 2 chains and a collector poster.
Make sure to check out the Awesome Little Green Men website for more information, super cool videos and more!
Disclosure: I received the above mentioned products in order to facilitate this review. All opinions expressed are my own.