Cookies for Santa: The Story of How Santa's Favourite Cookie Saved Christmas
The Kringle family cookbook has gone missing, and Santa can't remember the recipe for the special cookies he makes every year. But where can he turn for help? From the experts at America's Test Kitchen comes a new twist on a holiday tradition.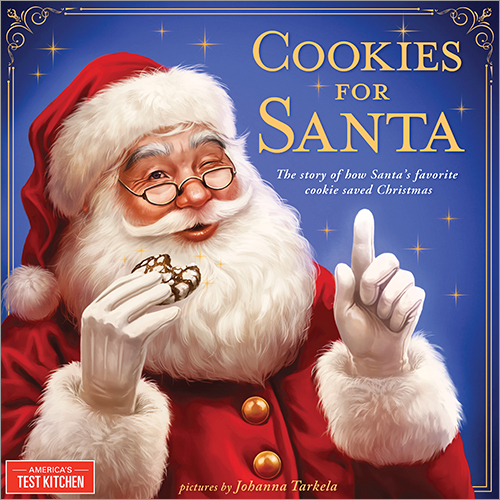 About Cookies for Santa: The Story of How Santa's Favourite Cookie Saved Christmas
Millions of people bake special Christmas cookies during the holidays―including Santa! In fact, every year he bakes his family's favorite cookie and gives them to the elves and reindeer to show them how much he cares, just like his father and grandfather did. But it's just days before Christmas, and the Kringle family cookbook is nowhere to be found! If he has no recipe, he can't bake his cookies. And if he can't bake his cookies, Christmas might as well be canceled! Luckily, a little girl finds the cookbook and, with the help of America's Test Kitchen, inspires families from all over the world to work together to make sure that Santa and his family have a happy holiday.
This book also includes the delicious cookie recipe.
Our Thoughts
Cookies for Santa is a beautiful book about the true meaning of Christmas, people working together for a greater cause and the warmth of family and friends.
In Cookies for Santa, Santa can't find his cookbook which holds all of the recipes handed down from generation to generation. Santa loves to bake and he loves to share this love with the people, elves and animals that mean the world to him. When he loses the book, he feels all is lost and doesn't know if he can go on with Christmas. A young girl finds his cookbook and comes up with the brilliant idea to bake cookies for Santa with the help of America's Test Kitchen! Soon, kids all around the world are showing their love for Santa by helping bake his favourite cookies.
I love to bake for others, there is something so satisfying when you can share the time and energy you put into baking with someone you love. I can only imagine how Santa would have felt losing his cookbook – I love the recipes that my Dad cooks, they hold so many memories. I would be devastated losing something like that.
What was so beautiful about this book, was the way the community came together to support and show their love for Santa. People all over the world made his favourite cookies as a symbol of their love and support. This was a beautiful gesture and so very touching.
We loved the illustrations and the ease of reading this book aloud. It was a beautiful story that showcases the true meaning of Christmas. A huge bonus was the delicious Santa's Chocolate Krinkle Cookies at the back of the book, that your child and you can bake together!
You can purchase a copy of this book on Amazon.
About the Author
AMERICA'S TEST KITCHEN is the most authoritative resource for reliable, kitchen-tested recipes and cooking information. They value process, curiosity, practicality, and honesty. They believe everyone can learn to be a successful cook and their mission is to test recipes over and over until they understand how and why they work, and arrive at the best version.
Disclosure: I received a copy of this book in order to facilitate this review. All opinions expressed are my own.