Creating a Budget: The Do's and Dont's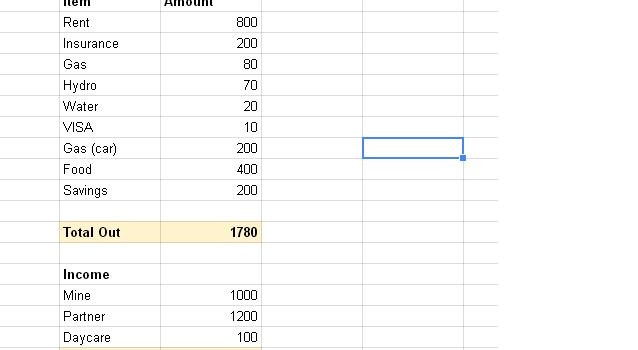 Budgeting.
I feel like cringing whenever I hear that word! I am not going to lie budgeting is hard. We live in a society where we want and need things in that moment. Having to tell ourselves to slow down, set aside money, pay off debt and live in the moment can be hard.
While I am by no means a financial expert, I have learned many valuable tools over the last few years. In the last seven years, I have paid off my University debt ($15,000), planned and held our wedding (using no credit) and put a down payment on our home. This was met with sacrifice and hard work but it has been well worth it.
My first step was to write it all down. I love my spreadsheets! So pop open Excel or if you don't like that Google Drive offers a great spreadsheet. Make a table showing the bill item (rent/mortgage, hydro, water, gas, etc..) and the monthly amount due. Make sure you include all debt you owe, an amount for food (for a family of four we set aside 500/month), an amount for transportation (whether it be gas or bus fare), bank fees, child care and an amount for savings.
Here is an example: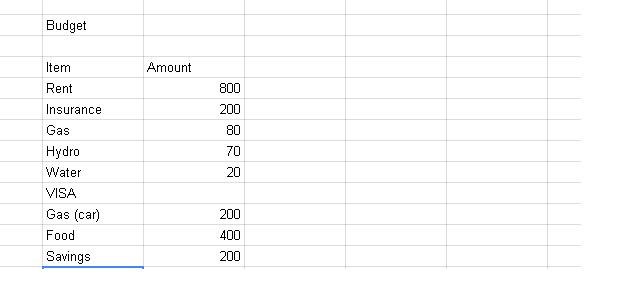 For my savings category, it is important that you have something in mind for this as it may affect how much you put into this category each month. Are you saving for a trip? A down payment? Wedding? Rainy day? Pay off debt? Take that total amount and divided it by the amount of time you need to pay it off in. Ex) You need to pay a down payment of $15,000 in three years: 15,000/36=417.
Add up your outgoing payments at the bottom.
Next you want to look at all incoming income you have. Look at your income, your partners (if applicable) and any monthly tax credits (baby bonus, childcare bonus, etc..) I like to add this below my outgoing amounts.
Here is an example:
It is important to leave yourself some breathing room with your outgoing and incoming funds. Emergencies happen and you want to make sure you feel comfortable having enough funds in your bank account. This is what I like to refer to as our "play" cash.
What to do if the money isn't adding up?
This happens to a lot of us! Here are some tips I suggest:
Decide what you can do without. Do you need that home phone? Expensive cell phone plan? Probably not. Make the necessary cuts where you have to. Eat in more, bring coffee to work, don't go out for work lunches. Sacrifice isn't always easy but it is well worth it.
Price match and use coupons. This has cut our grocery bill substantially and only requires minimal prep work.
Earn more money. While this may seem hard at first but even earning an extra $100 a month makes a difference.
Consolidate. If you have large amounts of debt and high interest rates see if you can consolidate your debt into a lower interest rate. Paying off your debt will help you greatly each month. Make sure you cut those high interest rate cards after!
Be honest. Keep open communication between yourself and your partner. Speak to each other about your spending habits. Talk about major purchases.
How have you designed your budget? Do you have tips for keeping to your budget and increasing savings?