Cynthia Ruchti's 'A Fragile Hope' Blog Tour and Giveaway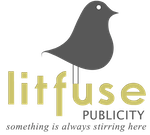 When your life's work revolves around repairing other people's marriages, what happens when your own marriage begins to fall apart? Find out what happens to Josiah Chamberlain in Cynthia Ruchti's new book, A Fragile Hope. Feeling betrayed, confused, and ill-equipped for a crisis this crippling, he reexamines everything he knows about the fragility of hope and the strength of his faith and love. Love seems to have failed him. Will what's left of his faith fail him, too? Or will it be the one thing that holds him together and sears through the impenetrable wall that separates them?
Celebrate the release of A Fragile Hope by entering to win Cynthia's Sign of Hope Giveaway!
One grand prize winner will receive:
Enter today by clicking the icon below, but hurry! The giveaway ends on May 3. The winner will be announced May 4 on the Litfuse blog.