This children's book on space travel is packed with inspiring stories and facts about space exploration, astronauts, and the first moon landing.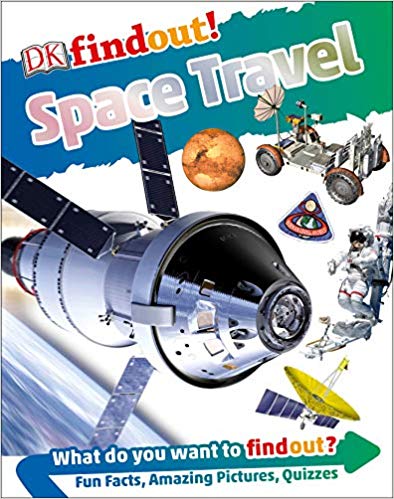 About DKfindout! Space Travel
DK findout! Space Travel is ideal for children who love to learn about adventures in space. From the first astronaut in space to the Apollo Moon landings, this book is full of exciting facts about the astronauts who explored space, including Yuri Gagarin's first journey into space and Neil Armstrong's moon landing.
Learn about the sun, our solar system, the International Space Station, how to be an astronaut, the Space Race, and new worlds discovered by space-exploring probes.
This children's book is packed with amazing facts that will delight young readers. It is written by experts and checked by an educational consultant. Part of the award-winning DKfindout! series, this exciting book includes amazing photography and illustrations that help children understand the wonders of space travel.
Our Thoughts
Do you have a little Astronaut in the house? Someone who loves space, rockets and space travel?
Then this book is for that special child in your life. This soft cover book explores the world of space travel and is packed full of interesting facts, incredible photos and more. The coolest fact we learned? In 2001, Dennis Tito became the first space flight participant – he paid more than $20 million to spend a week on the ISS! I had no idea that a regular person had already gone up in space nor that it could cost that much money (I guess my plans are now out the window!). This book also features fun games – want to play a game of space quest? Check out page 44 for some fun to break up the reading.
This is a fun book for children of all ages who want to be an astronaut, love space travel or maybe love Star Trek or Star Wars. It gets them thinking about the world around us, what it would be like to travel in space, is there life outside of our planet and what does space travel have the potential to look like in thirty, fifty and even sixty years from now. They will enjoy and appreciate the bright, bold photos and the amazing amount of cool facts found within its pages. A definite must read for children this summer – maybe even get them started on building their own space rocket in the backyard?
You can purchase a copy of this book on Amazon and Indigo.
Disclosure: I received a copy of this book in order to facilitate this review. All opinions expressed are my own.