Explore the World of Amazing Giant Dinosaurs with DK Canada

Showcasing dinosaurs at their biggest and best, Amazing Giant Dinosaurs, will be the best introduction into the world of dinosaurs for your child.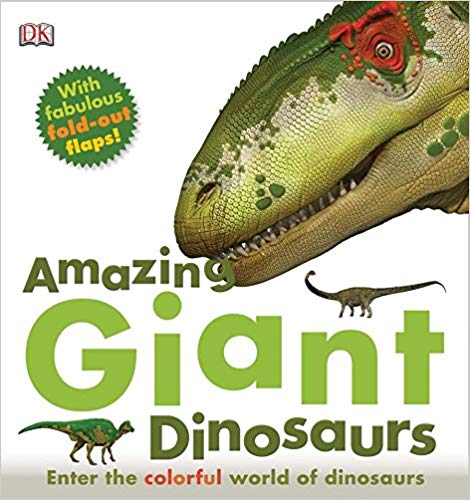 About Amazing Giant Dinosaurs
Featuring new colorful artwork and special gatefold pages to show dinosaurs at their biggest and best, Amazing Giant Dinosaurs will delight budding archeologists of all ages. From the tallest plant-eater Brachiosaurus to the sea monster Elasmosaurus and its air-bound flying friend Quetzalcoatlus, this dinosaur book has the largest animals of the Triassic through the Cretaceous periods covered. It also includes remarkable dinosaur records and a comprehensive glossary.
Our Thoughts
This is a beautiful, fifteen page hard cover book that features seven of the top best and biggest dinosaurs that roamed our planet.
Geared towards a younger child (anywhere from three to twelve), the book features bold images that seem to jump off the page. This interactive book features pop up pages that your child will love to pull open and discover even more facts and images of these creatures. Children will learn where and when they lived, what it liked to eat, size, what their name means and key facts about this specific dinosaur. The pages are perfect for little hands that get excited and tend to turn pages too fast as they are also hard and easy to turn and unfold (no ripped pages here).
This is a fantastic introduction to the world of dinosaurs for young children. It will get them excited and ready to learn more about these beautiful, yet dangerous, creatures that walked our planet.
You can purchase a copy of this book on Amazon and Chapters.
Rating: 5/5
Disclosure: I received a copy of this book in order to facilitate this review. All opinions expressed are my own.