Find Courage, Creativity, Compassion and the Artistic Spark with Beautiful Picture Books from Raincoast Books
With back to school right around the corner (the countdown is on), it is important to nurture your child's creativity, compassion and confidence in themselves. Books have a magical way of taking us on an adventure where we can be anything we want to be and will take risks we may not always be brave enough to do. Books can also spark a passion and love for a subject area – I find there is nothing a good book cannot do.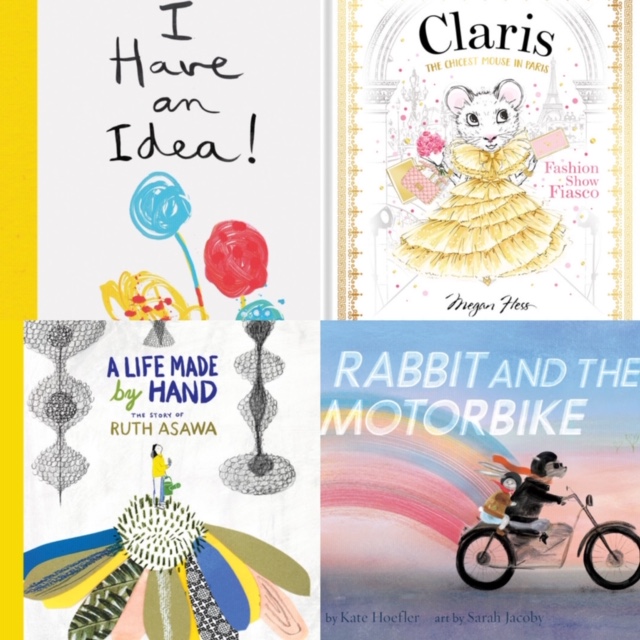 These beautiful, picture books from Raincoast books bring together fantastic stories that will encourage and support your child in their dreams and passion.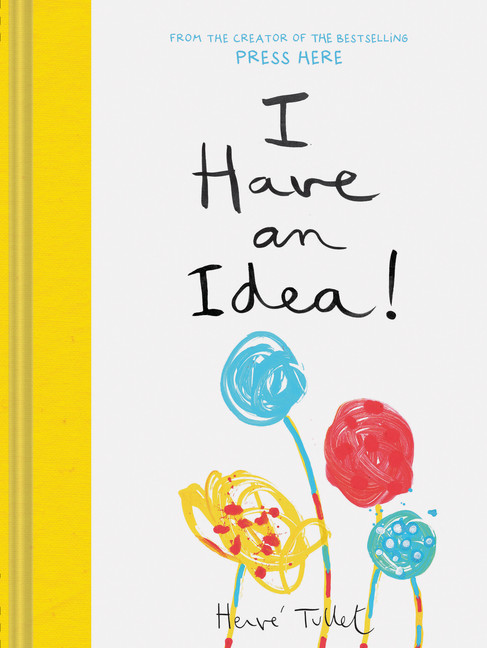 I Have an Idea!
Join the magical hunt for one little idea: From one of the true creative geniuses of this generation comes a unique meditation on and celebration of the magic of the birth of a simple idea. Sparkling with visual wit and bubbling with imagination, I Have an Idea! is a richly emotional exploration of the creative process: from an initial tentative inkling, to the frustration of chasing the wrong notion, to finally the exhilaration of capturing-and nurturing-just the right idea. I Have an Idea! is a scrumptious cloth-spined package of color and inspiration equally at home on a child's bookshelf, in a new graduate's backpack, or atop a creative's desk.
About the Author: Herve Tullet is known for his prodigious versatility, from directing ad campaigns to designing fabric for Hermes. But his real love is working with children, for whom he has published dozens of books, including the New York Times bestsellers Mix It Up!, Let's Play!, Say Zoop!, and Press Here . He lives in New York City.
Our Thoughts: Children have this wonderful way of looking at the world, of seeing change and being excited to be an agent of change. This beautiful and simple book encourages creativity and sparking new ideas. It explores how ideas can come from out of nowhere or from anywhere, we sometimes make mistakes (but this is okay) and sometimes we soar! Sometimes ideas can be hard to come up with, whether it is writing an essay, coming up with an art project or coming up with a solution at work and it is so important to think outside of the box. We need to learn to look with eyes and mind open and then we will be open to finding. I loved the simplicity of this book, it was easy to read and follow – the illustrations were simple and stayed with the same colour patterns of blue, yellow and red. The illustrations were childlike which I loved – I think we all need to find that child in us and this will help us tackle anything in life.
You can learn more about I Have an Idea here.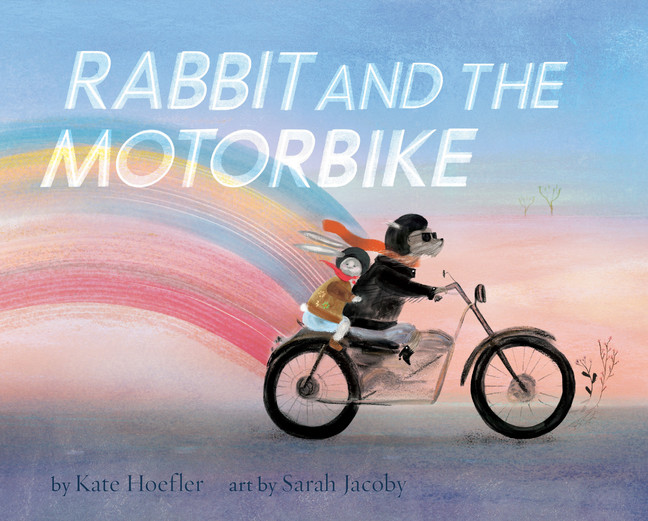 Rabbit and the Motorbike
Rabbit isn't sure he'll ever be brave enough to go on an adventure. He's a homebody who lives in a quiet field of wheat he dreams of leaving every night. His world is enlarged by his friend Dog and Dog's tales of motorbike adventures. But one day, Dog is gone, and with him, go the stories Rabbit loves so much. Dare Rabbit pick up the motorbike and live his own story? This timeless fable of the journey from grief to acceptance will touch every reader. For those confronting loss and those eager to explore and experience, Rabbit's bravery in the face of sadness will console, nurture, and inspire.
About the Illustrator: Sarah Jacoby grew up wandering the woods outside of Philadelphia. She now draws for many people and places, including the New York Times, and she is the author and illustrator of Forever or a Day . She lives in Philadelphia.
About the Author: Kate Hoefler received her MFA in poetry from the University of Michigan, where she studied as a Colby Fellow. She is the author of Real Cowboys and Great Big Things . She lives in a quiet village in Ohio where she can hear the distant sounds of the highway.
Our Thoughts: This is a beautiful story of the power of friendship and being brave. Rabbit is scared of change and the world around him – he is not comfortable with the unknown. His friend, Dog, understands this and supports him and always makes time for Rabbit, ensuring he feels loved and shares in his adventures through his stories. When Dog is gone, Rabbit feels alone and empty. He has his friend's motorbike – the bike that he took around the world visiting new places. At times, the bike calls out to Rabbit but he is still too scared. He is too scared of the unknown and change. Then one day, he gathers the courage to go just up the street on his dear friend's motorbike but what he doesn't realize is how long that road is and how much he would enjoy. This was the experience he didn't even know he needed! This is a beautiful story of loss, accepting our fears and being able to step outside of our comfort zones – important messaging for our youth especially now. We loved every moment of this beautifully illustrated and written story.
You can learn more about Rabbit and the Motorbike here.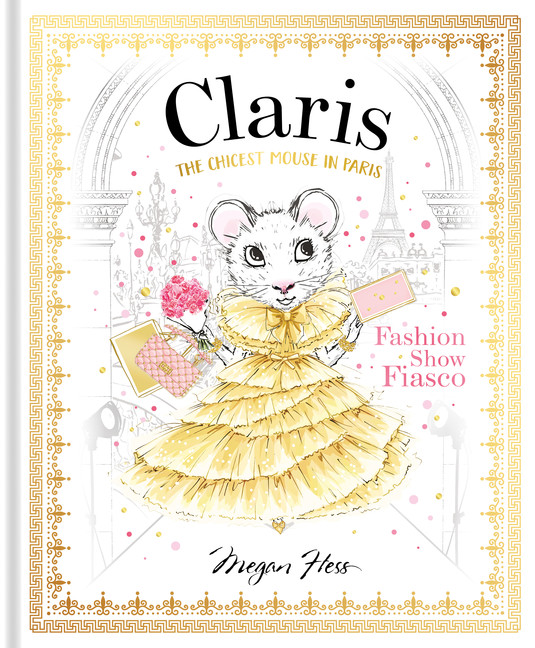 Claris: Fashion Show Fiasco
It's Fashion Week in Paris and there is no way Claris is missing the show of her favourite designer! But when a fashion emergency occurs, will Claris and Monsieur be able to make it to the show in time to save the day?
The Claris series follows an adorable mouse who moves to Paris to follow her fashion dreams. Can Claris use all her wit, warmth and – of course – style to make her dreams come true?
About the Author: Megan Hess is an acclaimed fashion illustrator who works with some of the most prestigious fashion designers and luxury brands around the world, such as Chanel, Dior, Cartier, Montblanc and Tiffany & Co. She is the official illustrator for Bloomingdales New York, and completed the cover artwork for all of Sex and the City author Candace Bushnell's books, as well as a private commission for Michelle Obama, and has collaborated with Gwyneth Paltrow for the 'Blo' Blow Dry Bar campaign. TheClaris Collection is her first children's book series.
Our Thoughts: I fell in love with this book the moment I saw it – from its glittery and fun cover to the adorable Claris, how can you resist not falling in love? Claris is quite the chic mouse and I love how the story is told with flair and in beautiful pinks, gold, black, white and pastels.
Claris lives in Paris, in a flat with two parents and a brat (the way I laughed – and yes she is a brat!). Claris loves fashion and designing dresses and she cannot wait to attend Fashion Week. She creates the most beautiful dress but almost misses out! This takes on her quite the journey (with help from friends) in order to get her to the show on time.
This is a wonderful story with a mix of French words that any young fashion designer will love. I loved the story and warmth of Claris – while she is one chic and fashionable mouse, friendship and kindness come first. This will make a beautiful gift for any young creative, fashion forward child.
You can learn more about Claris: Fashion Show Fiasco here.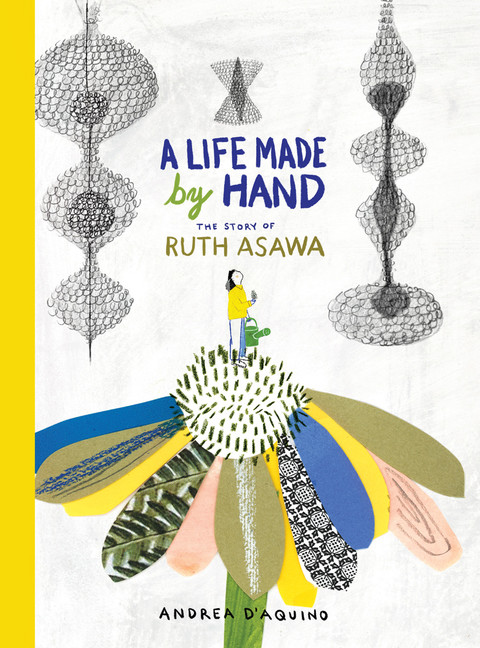 A Life Made by Hand
Ruth Asawa (1926-2013) was an influential and award-winning sculptor, a beloved figure in the Bay Area art world, and a devoted activist who advocated tirelessly for arts education. This lushly illustrated book by collage artist Andrea D'Aquino brings Asawa's creative journey to life, detailing the influence of her childhood in a farming family, and her education at Black Mountain College where she pursued an experimental course of education with leading avant-garde artists and thinkerssuch as Anni and Josef Albers, Buckminster Fuller, Merce Cunningham, and Robert Rauschenberg. Delightful and substantial, this engaging title for young art lovers includes a page of teaching tools for parents and educators.
About the Author: Andrea D'Aquino is an artist and author. Her previous books include an illustrated edition of Alice's Adventures in Wonderland and Once Upon a Piece of Paper . Her work appears in magazines and newspapers around the world. She lives in New York City.
Our Thoughts: This is a beautifully told and illustrated story of artist, Ruth Asawa. She is an artist that I did not know about but we loved learning about. She came from humble beginnings, and like many artists saw the beauty in everything around her. In college, she explored the world of art – learning, engaging and immersing herself in every aspect. It was in Mexico, where she learned the art of wire basket weaving. I have never seen wire baskets but on a trip to Zimbabwe – I was amazed at the skill and beauty that local artists could create with wire and bottle caps! Ruth took this teaching and became famous for her work in wire sculptures – which are admired and loved in museums. The book highlights her work and her love and connection to the natural world. The author highlights some of her life moments at the back of the book, including when her family was forcibly relocated to an internment camp in the US during World War II. The book is a beautiful tribute to a special artist, that many young artists can connect with. It also includes instructions on how to create your own paper dragonfly! It is beautifully written and illustrated, honouring this very talented artist.
You can learn more about A Life Made by Hand here.
Make sure to follow Raincoast Books on Twitter and Instagram to keep up to date with the newest releases and more.
Disclosure: I received the above mentioned books in order to facilitate this review. All opinions expressed are my own.