Finding Gabriel by Rachel L. Demeter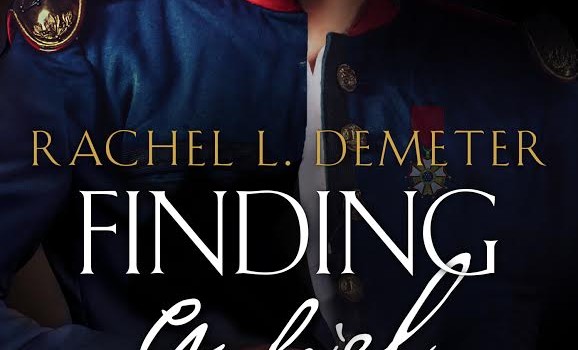 Sometimes fate has its own plan for us. In Finding Gabriel, Gabriel learns this lesson first hand.
After a decade of bloodshed fighting in Napoleon's army, Gabriel returns to Paris a shattered and tortured soul. He is plagued by his inner demons and decides to end his suffering with a pistol. But fate intervenes.
Ariah Larochelle is a survivor; orphaned at twelve and the victim of a terrible crime. Ariah has learned to trust no one and to keep her back to the walls. When she finds a gravely injured soldier on the shores of the River Seine, she is moved by compassion. She rescues him and brings him into her home.
Now scarred on the inside and outside, Gabriel discovers a kindred spirit in Ariah. The feelings he thought he had lost forever are re-awakened in the face of adversity. But when Ariah's secret past is revealed, the ghosts of her past threaten their new love. Can they find hope or will the pattern of their history repeat itself.
My Thoughts
An extremely exciting novel from start to finish! Not only was it sexy, romantic and exciting but it was full of adventure and raw emotion. Ariah and Gabriel are not your typical main characters. They are battered, broken and as far from perfect as you can imagine but their story is so compelling and real.
I love how Ariah pulls Gabriel out of his belief he is broken. He is lost, hurting on the inside and feels so much pain that he wants it all to end. Like so many of us who are suffering with our past and depression, he is suffering so much on the inside and can't find a way out of it. It is Ariah and her imperfect past who shows him that we must look past our suffering and learn to live with it. That they are not badges of dishonour or that people look at us with hate but that they are marks of our strength and courage to keep moving forward. Ariah shows him a compassion and love that he has never known. Not even when he reveals the worst parts of him, is she swayed from her belief that he is a good person at heart.
A fantastic, raw and powerful novel from start to finish. I finished this novel in one sitting as I did not want to put it away. I was so engrossed in Ariah and Gabriel's story, and how they overcame their pain to move forward not happy and blissfully but at peace with all around them and their own personal demons. While it has some sexy and romantic scenes, I love how the focus is on the characters and their personal scars from their past that they must deal with.
The novel is available August 27th, 2015 and you can purchase a copy on Amazon and Barnes & Noble.
Rating: 5/5
Book Trailer

About the Author
Rachel L. Demeter lives in the beautiful hills of Anaheim, California with Teddy, her goofy lowland sheepdog, and her high school sweetheart of eleven years. She enjoys writing dark, poignant romances that challenge the reader's emotions and explore the redeeming power of love.
Disclosure: I received a digital copy of this book in order to facilitate this review. All opinions expressed are my own.