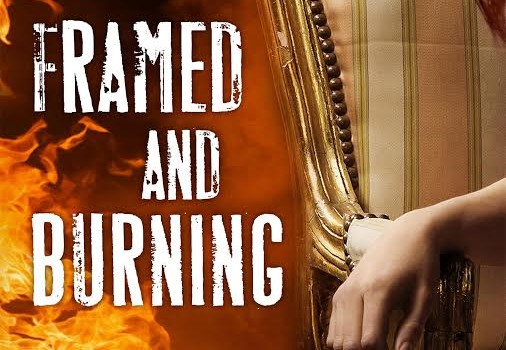 Lisa Brunette is gearing up for her new release of Framed and Burning: Book Two in the Dreamslippers Series.
Framed and Burning, Book Two in the Dreamslippers Series
Published by Sky Harbor LLC
November 27, 2015 pub date
Genre: Mystery

Book Synopsis:
The Dreamslippers are a family of private investigators who have the ability to "slip" into your dreams. The first book in the series, Cat in the Flock, was published to critical acclaim and is trending at 4.5 stars on Amazon with 35 reviews. In Framed and Burning, someone sets fire to Mick Travers's art studio, killing his assistant, and Mick won't give an alibi. His dreamslipping sister–the eccentric Amazing Grace–is convinced he's innocent, but her granddaughter and the police aren't so sure. Was it Mick, or is something darker behind the fire?
"Framed and Burning is the second book in the Dreamslippers series. It's easy to follow and hard to put down, making readers who may not have read the first book race back to give it a try!"  – InD'tale Magazine
"Lisa Brunette continues to develop vibrant characters in a stunning story that will keep you reading well past your bedtime!" – On My Kindle
PRE-ORDER ON EBOOK NOW FOR $1 OFF!
Only $2.99 if you order before November 27, 2015 – price goes to $3.99 afterward.
About the Author: 
Lisa Brunette is the author of the Dreamslippers mystery series. Book One, Cat in the Flock, is an indieBRAG honoree title that has been praised by Kirkus Reviews, Midwest Book Review, Readers Lane, and others.
Brunette is a career writer/editor whose work has appeared in major daily newspapers and magazines, including the Seattle Post-Intelligencer, Seattle Woman, and Poets & Writers. She's interviewed a Pulitzer Prize-winning author, a sex expert, homeless women, and the designer of the Batmobile, among others.
She has story design and writing credits in hundreds of bestselling video games, including the Mystery Case Files, Mystery Trackers, and Dark Tales series for Big Fish and AAA games for Nintendo and Microsoft platforms.
She holds a Master of Fine Arts in Creative Writing from University of Miami, where she was a Michener Fellow. Her short stories and poetry have appeared in Bellingham Review, The Comstock Review, Icarus International, and elsewhere.
She's also received many honors for her writing, including a major grant from the Tacoma Arts Commission, the William Stafford Award, and the Associated Writing Programs Intro Journals Project Award.
She blogs at www.catintheflock.com and has been a guest-blogger for Author magazine and Dr. Chris Michaels's blog.
Brunette is a member of Mystery Writers of America and the Pacific Northwest Writers Association.
Connect: Facebook | Twitter | LinkedIn | Pinterest | Google+ | Instagram |
Book Excerpt
Chapter 11
While her grandmother was puzzling over Ernesto's dream that morning, Cat was trapped in a hoarder's house with a battalion of beagles underfoot.
Maysie Ray Duncan had thirty-three of her great-uncle's paintings. That is, if you could find them under the detritus accumulated over however many decades Maysie had occupied the cinderblock home. It was set down on a canal in a quiet section of Miami suburbia. The beagles, which seemed to number at least twenty, had the run of the place, and judging by the odor that hit the back of Cat's palate the minute she set foot inside, the dogs had quite possibly never been bathed.
Unable to shake the feeling that they'd missed something about that first fire at Mick's place, Cat was still investigating. Sure, maybe crazy Candace did set both fires. It was hard to argue with a confession. But Cat felt she owed it to her uncle to make sure.
She'd combed through a digital catalogue of Mick's art and decided she needed to talk to some of his regular buyers, people who made a point of collecting his paintings. One of them could have a grudge against him, she reasoned, or maybe they only wanted to destroy some of his work so the pieces they owned would go up in value.
Which is how she got to Maysie Ray Duncan, apparently one of her uncle's biggest fans.
Behind a tower of newspapers dating back to the Sixties, Cat found a piece with Mick's tell-tale signature on it—a wide M followed by a scribble followed by a cursive T followed by more scribble.
"Oh, that's Blue Shift Number Seven," said Maysie with delight. "One of my favorites! Number Nine must be nearby. I wanted to get Number Eight, but I was outbid. Imagine that."
Maysie wore a velvet housecoat over a long silk dress. Her arthritic feet were stuffed into velvet-trimmed slippers. Her face was made up as if she were about to do a curtain call. Her hair was wrapped in a silk scarf tied above her painted-on eyebrows, the fringe falling down over her forehead.
"When was the last time you purchased one of Mick's pieces?" Cat asked, trying not to topple a tower of washed-out dog food cans.
"Let me see… I attend so many of the gallery openings, you know," she said, as if wanting credit for her society status. "I suppose it was three or four years ago. I like to get them before they really make it big."
Cat had to hand it to her; that was some shrewd collecting. If Maysie put Mick's work out to a gallery or auction house now, she'd surely see a huge profit.
"Do you sell the work you acquire?"
"Oh, heavens, no!" Maysie shrieked, reaching out to stroke Blue Shift Number Seven. "They're my babies. Even more than you guys, eh, Melvin?" She picked up one of the beagles and kissed him square on the mouth. Melvin seemed unfazed by the gesture.
"So you've kept them all."
"Of course!"
Cat told Maysie about the fires in Mick's studio and beach house, and the woman broke down and wept, clutching her chest. "It's horrible, my dear! That poor man. His precious things."
Cat left Maysie's house gasping for fresh air. That had been a bust, but at least her mental picture of who collects art these days got more rounded out.
Disclosure: This post is brought to you by LegitLit Books. I did not receive compensation for this post.