Fun, Easy and Healthy with Scrumptious Sandwiches, Salads and Snacks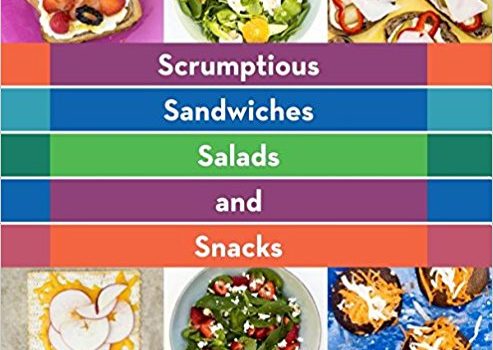 Preparing and eating healthy meals and snacks for the family doesn't have to be hard! Scrumptious Sandwiches, Salads and Snacks helps take the stress and worry out of the planning and making healthy meals for the whole family.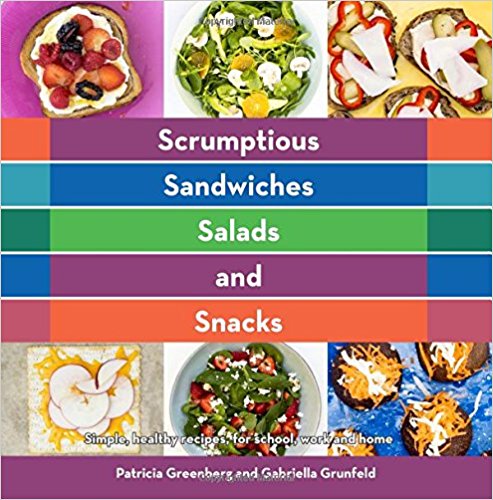 About Scrumptious Sandwiches, Salads and Snacks
Whether you are a working parent, a teenager, a busy professional, single parent, young couple, or caretaker, this collection of scrumptious, simple, and healthy recipes will help you learn to cook foods that taste good and are good for you. They work for on the go, as well as at home, made with readily available ingredients that are simple to prepare. As a team, a working wife and mother and a busy teen, we wrote this cookbook for you.
Today's technology has opened our tastes to an abundance of foods from all over the globe, giving us unlimited access to the latest nutrition information, and has dramatically improved the conveniences of the modern kitchen. Yet, it is increasingly more challenging to keep ourselves and our families connected and to sit down and enjoy a healthy meal together. Work has become all-consuming, just to make ends meet. Two income households make it harder for families to have daily recreation, and the fear of leaving our children alone to explore, play, and learn life's lessons, has made it more difficult for kids to be fit. Schools are more demanding than ever, physical education and recess time are shrinking. Children are less independent and rarely rely on their own judgment. This translates heavily into bad health habits, especially eating. Children should run and play when the mood strikes them, eat when they are hungry, and rest when they are tired. Living life should be driven by instinct, and our natural surroundings, but now, being outside has become a thing of the past. Over time, it has become more difficult to enjoy nature, and by default, more difficult to pay attention to the bodily signals that indicate hunger, satiety and preferences for taste.
Looking out for the health and well-being of our families is a given, and enjoying good, healthy food as a family and a community leaves an indelible mark on young people who will improve their desire for a higher standard of living in every aspect of their lives. Many people categorize food as adult food or kid food. "Kid food" is just another marketing ploy to get you to buy more gimmicky items that you do not need.
The recipes in this book are designed for you to have an easy way to ensure that kids eat well, alongside adults, and learn how to prepare quality meals that taste good.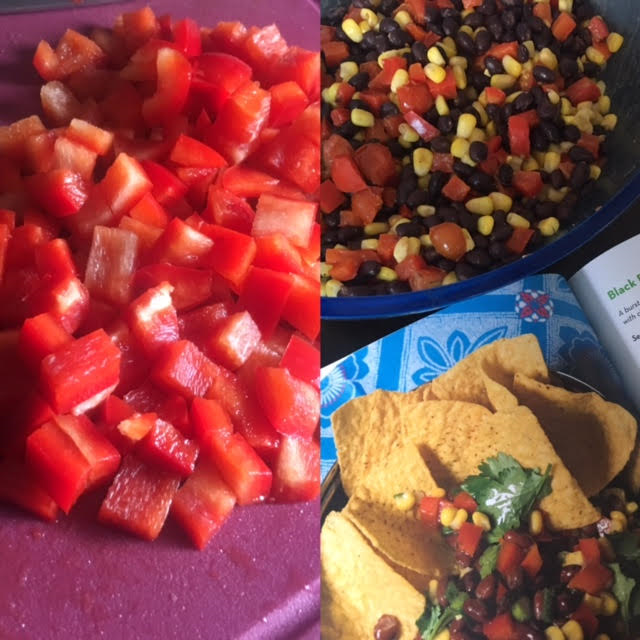 My Thoughts
When we think of barriers to healthy eating, some of the top barriers that come up are not knowing what to make, worry over whether the whole family will eat the meal, time and money. These are all valid reasons but easy to fix with simple recipes, learning how to balance meals and lots of organization!
Scrumptious Sandwiches, Salads and Snacks is an excellent tool to help you prepare as a family prepare easy meals with most ingredients you will have already in your home. This recipe book starts out discussing healthy habits for life (because lets face it – you need a life balance of healthy eating, exercise and commitment to this lifestyle), how to read a nutrition label and how to get started.
The recipe book is into the three sections of sandwiches, salads and snacks, which is further broken down into breakfast and lunch sandwiches, appetizers and side salads, main dish salads, savoury snacks and sweet snacks. Each section is colour coded making it easier to identify the section you need in that moment.
One of my favourite features of this recipe book is how simple the recipes are – each one has a limited number of ingredients, anywhere from three to ten ingredients. This is a huge bonus for working families who need something quick and simple but still want to prepare something healthy. Many of these ingredients you will have in your pantry already, so there is no need to have to stock up on special ingredients. This made it that much easier to dive right into the recipe book and allowed me to get started on the recipes as soon as I received the book (there is nothing worse than getting excited for a recipe book and realizing most of the recipes require special ingredients!).
Each recipe is easy to follow with exact directions. Patricia also includes cooking notes for many of the recipes with tips on how to increase the recipe size, add more variety or garnish the recipe. Many of the recipes also include fun facts about the ingredients themselves and the nutrients they contain. I also loved that each recipe has its own nutrition label so you can easily see how many calories per serving, how much protein, fat, carbohydrates each recipe contains.
We tried out several dishes, including the black bean, corn and red bell pepper recipe for Thanksgiving meal this weekend and they were a huge hit! This recipe book is perfect for the busy, working family that wants to add some healthy (but simple) variety into their lives. A definite must have addition in the family recipe book collection.
You can purchase a copy of this book on Amazon.
About the Author
Ushering in an era of bite size health, nutrition and fitness solutions, Patricia Greenberg definitely practices what she preaches! A working wife and mother, she has thirty years of experience as a nutritionist, Chef and Wellness educator. She continues to live a healthy lifestyle in an often chaotic world through good food and attainable fitness. She runs The Fitness Gourmet, a wellness consulting firm that specializes in teaching seminars nationwide. She has a special interest in enhancing the education of the general public, providing accurate nutrition and health information to today's consumer.
Disclosure: I received a copy of the above book in order to facilitate this review. All opinions expressed are my own.