Highland Sword Book Review
From USA Today bestselling author May McGoldrick comes Highland Sword, the third book in the Royal Highlander series.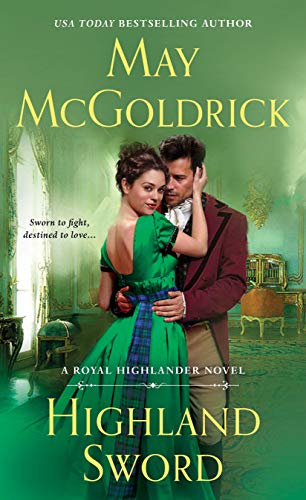 About Highland Sword
Fleeing to the Highlands after her father's murder, fiery Morrigan Drummond has a score to settle with Sir Rupert Burney, the English spymaster responsible for his death. Trained to fight alongside the other rebels determined to break Britain's hold on Scotland, she swears to avenge her father's death—until a chance encounter with a barrister as proud and principled as she is presents her with a hard choice…and a bittersweet temptation.
Aidan Grant has never encountered another woman like dangerous beauty Morrigan—and he has the bruises to prove it. Yet she could be the key to defending two innocent men, as well as striking a death blow to the reprehensible Burney. Convincing Morrigan to help him will take time, but Aidan is willing to wait if it means victory over corrupt government forces and freedom for his people…and Morrigan's hand in marriage. Can two warriors committed to a cause stand down long enough to open their hearts to a love fierce enough to last…forever?
My Thoughts
I was introduced to this series of books a few months ago and fell in love with the strong female leads and the passionate plots. The stories takes place in Scotland during a time when England was doing everything they could to destroy their way of life. It is in this backdrop that we have a group of incredibly strong women ready to fight to maintain their way of life and beliefs. You don't need to read the other books in this series to enjoy this one, but I would highly recommend it so that you gain a better understanding of the characters history and the way that they connect to each other.
Morrigan has seen many awful things in her young life, including the murder of her Father. She has vowed revenge and will stop at nothing. She is full of fire and determination, she has learned to fight and goes on many missions. It is this fierceness that tends to get her in trouble but is also what attracts Aidan to her.
Aidan is the calm in her storm. He is a barrister who fights for justice. He wants to see his people free and he will do anything within the law to ensure this. He falls for Morrigan but understands how vulnerable she is and how she has been hurt in the past. He is patient and kind – always in tune to her feelings and mindful of them (how can you not fall in love with his character!). He will do anything to protect her. Their feelings for each other evolves slowly and at times you worry that her past will prevent them from having a future together. This was a beautiful story during a time period that was not kind, that you will not want to put down.
You can purchase a copy of this book on Amazon.
Rating: 4.5/5
About the Author
Authors Nikoo and Jim McGoldrick (writing as May McGoldrick) weave emotionally satisfying tales of love and danger. Publishing under the names of May McGoldrick and Jan Coffey, these authors have written more than thirty novels and works of nonfiction for Penguin Random House, Mira, HarperCollins, Entangled, and Heinemann. Nikoo, an engineer, also conducts frequent workshops on writing and publishing and serves as a Resident Author. Jim holds a Ph.D. in Medieval and Renaissance literature and teaches English in northwestern Connecticut. They are the authors of Much ado about Highlanders, Taming the Highlander, and Tempest in the Highlands with SMP Swerve.
Disclosure: I received a digital copy of this book in order to facilitate this review. All opinions expressed are my own.