The Hills of DC: Nathaniel McQueen-El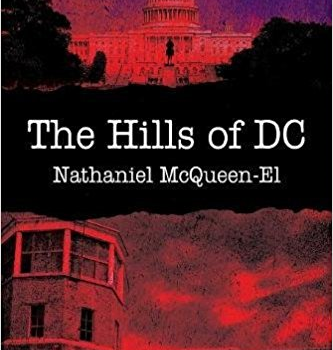 The Hills of DC is a new one-of-a-kind autobiography about DC's renowned Capitol Hill neighborhood, its criminal justice system and its infamous prison complex in Lorton, Virginia.
About The Hills of DC: Nathaniel McQueen-El
Nathaniel McQueen-El's autobiography, The Hills of DC, examines the life of a desperate, impoverished child who turned to a life of crime to help his mother and family live from day-to-day. Ultimately, he survived, not without hell to pay, by embracing his spirituality. It's a looking-glass for all to see, as a deterrent, the unpromising, ill-fated lifestyle of a criminal.
To survive the mean streets of Washington, DC, during the Civil Rights era, Nathaniel McQueen-El was compelled to make hard choices at an early age. The premature deaths of his grandparents catapulted his family into financial crisis, and he turned to a life of crime. He hit bottom after the deaths of his mother and best friend, which sent him into a tailspin, using heroin and cocaine. It was then that he faced the horrors of adult prison life, confronting racism, violence, corruption and mismanagement. But no matter how murky the waters, God was always clearly in sight at all times for him to lean upon—the eternal crutch enabled the author to eventually walk upright as a moral human being.
The Hills of DC isn't just another memoir—it brings the reader face-to-face with characters who are real, whose crimes are a matter of public record, and its profound insight clearly distinguishes and previews what crime has in store for those who turn to this lifestyle. More importantly, this book is a vivid tale of survival, endurance, hope, and the guidance of God in a life full of tragedy and mistakes. It's a compelling read, uniquely crafted for all readers, and educational and historical from cover to cover.
My Thoughts
The Hills of DC is an extremely powerful book that opens up your eyes. I wasn't sure quite what to expect when I began to read this autobiography but there was something in its description that grabbed my attention and I knew that this was one of those must read books. It did not disappoint and at times left my mind boggled that this was a true story, that he had really gone through all of these experiences as such a young man.
We dive into the life of Naeball (Nathaniel McQueen-El) during his early childhood on the streets of Capitol Hill. We are given a look into the intimate details of his life – his grandparents passing, his Father not being present to help with finances, his Mother who does everything she can but still struggles to financially support her family. What really touched me was the love of family. Nathaniel loves his family more than anything else and puts family above all else. Like so many of us, the thought of a family member suffering is not something he can sit by and watch. He turns to the streets to help support his family and he does so not for glory but for love.
This sets him down a path of crime and we watch as he is in and out of youth detention centres. His Mother's death spirals him out of control and your heart aches for him. We are with him as he finds but can not allow love for himself, we are with him as he enters into prison life and constantly has to fight for survival, as he struggles with drugs (not only for himself but for those he loves) and we are with him as he finds faith and finally a greater purpose.
This book touches on so many topics of great importance. We have poverty and the cycle it has on families and children. We see how it affects children and how even today, so many people still do not have the means to support themselves. Poverty is still not addressed enough, we are not doing enough to help lift up the most vulnerable members of our community in a way that helps and does not demoralize them. We deal head on with racism and how Naeball was treated for just the colour of his skin both in prison and outside in society. The hate that some people hold for others because of the colour of their skin is disgusting and the extreme ways that they feel it is okay to speak and treat another person hurts.
One of the hardest parts of the book and you will find it throughout is the condition of the prisons. I can't understand how any person could be treated so horribly and in such a manner. Their living conditions were unsanitary at the best of times, they were mentally and emotionally beaten (not to mention physically), they were not given enough to eat and so on. I found myself constantly checking the dates of the book because I found it hard to believe that this was in the last hundred years and we could be treating people like this. How could a prison be so mismanaged and people so uncared for?
Through all of this, Nathaniel found a way to believe again, to find hope and trust in a higher God. He found peace with his past and was able to move forward in a positive light. We see him grow throughout the book and the ending fills you with hope. He endured so much but never lost sight of his faith and belief in himself.
This powerful book will fill you with compassion and hope, you understand more of what this man went through and can truly appreciate and understand his actions. We watch him grow in his faith and understanding of the world around him, we are with him as he endures what seems like a constant struggle for life and keep rooting for him until the very end. This is a definite must read book for young adults and adults a like. There is swearing and scenes of sexuality but the message of the book is so important and that makes it a must read novel.
You can purchase a copy of this book on Amazon.
Rating: 5/5
Disclosure: I received a digital copy of this book in order to facilitate this review. All opinions expressed are my own.