I Can Do That! Can-Do Kids Book Series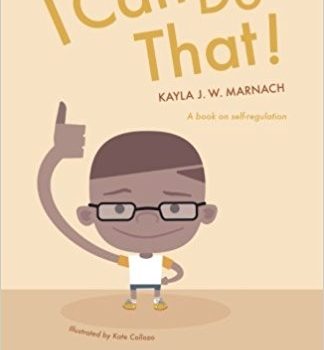 I Can Do That! helps children learn self-regulating techniques.
About I Can Do That!
I Can Do That! helps children learn self-regulating techniques. Told through rhyme from a child's point of view, strategies are shared empowering the child to effectively learn and practice ways they can control their emotions and actions when they feel themselves becoming dysregulated. The discussion questions at the end of the book provide an easy transition for counselors and parents to open a discussion, assisting the child in exploring ways they can learn to manage themselves.
My Thoughts
As adults we have learned tools that help us control our emotions, maybe you crack knuckles, maybe you do slow breathing or meditate or maybe you need to take a walk. Whatever you do, it is so important to have a tool to help control the emotions that we experience throughout the day.
For children, these emotions are present and can be difficult for them to understand, explain and talk about. It is important for us as parents and caregivers to understand and watch for signs of these emotions and help them understand what they are feeling. Even more important is giving them tools and techniques to help them control these emotions.
In beautiful rhyme and illustration, I Can Do That! helps children by acknowledging their feelings of being mad or bored from sitting still and how they can help themselves with these feelings. It also lets them know how these useful tools make their body feel better. I think it is important to validate their feelings but to also empower them to take charge of their feelings and actions. I love that Kayla also includes  helpful discussion about regulation that forces parents and caregivers to think about actions and their child as well as activities and questions to do with your child. This is a fantastic resource for parents and children.
You can purchase a copy of this book on Amazon.
About the Author
A native Texan, Kayla lives with her husband and three cats in Austin. Her two married daughters, along with her faith, have been an inspiration in many of her writings. She has been a guest speaker at elementary schools, women's retreats, writer's groups, and University of Texas. At the request of teachers and counselors, she has provided stories to broach difficult situations. Her passion is to empower and validate children, helping them know they are not alone in their feelings or circumstance, and ways to deal with it. When she is not writing she loves spending time with family and friends, read, scrapbook, and watch old movies. You can connect with her on her website.
Disclosure: I received a copy of this book in order to facilitate this review. All opinions expressed are my own.