Isosceles' Day Book Review
The special relationship that author Kevin Meehan and rescue dog Isosceles formed became the inspiration behind his new children's picture book, Isosceles' Day, a whimsical tale that takes readers through a  day in the life of Isosceles as he interacts with a variety of other furry, feathered and friendly animals.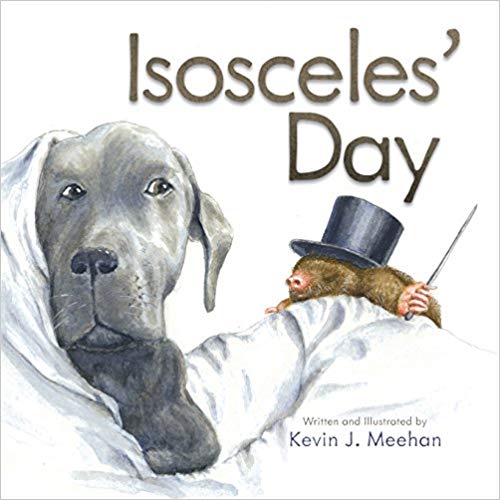 About Isosceles' Day
Isosceles' Day – From being awakened by friend Mole, to a breakfast of dancing eggs, howling and grunting with Moose, time spent with Frog and Platypus, lunchtime with Lizard, playing it cool with Mouse, listening to drums with Prairie Dog, riding in a wagon with Rhino, drinking from a hose with Goose and a lullaby with Frog – come share a fun day with Isosceles, a happy rescue dog, and his animal friends.
The Inspiration
Isosceles was neglected, and likely abused for his first three years of life in Wyoming. He had not been allowed to enter the house and had to endure outdoor temperatures down to -20F. He shared this miserable life with his sister, both isolated from any type of human affection. It was said that schoolchildren would feel sorry for them and pet them before and after school. The dogs were given up for adoption when their owners moved out.  The day they were found abandoned, Isosceles was brutally separated form his sister and taken to an adoption center.  
​The very first day he entered the adoption center, he was rescued by the author of this book, Kevin.  For the first time in his short life, Isosceles was introduced to a house, a warm bed, outdoors beyond an isolated cold backyard and homemade food.
With unconditional love and patience, Isosceles was nurtured back to health and started to experience innumerable adventures with new friends, wandering in the woods and interacting with nature. This book is about one day in his new, lovely life, full of magic and fun with the special relationships he has with his friends.
Our Thoughts
I have always had a pet in my home – whether it be hamsters, birds and dogs. Pets were special members of our family – they loved you unconditionally, brought laughter into the home and were always there for you. I still remember my first dog – she would make this crying noise when you got home, pee herself (this continued right into adulthood!) when she saw you and she had this way of knowing when you were sad and would be there for cuddles. I have amazing memories of the animals in my life so I wanted my kids to experience this as well.
We now have two dogs and two young boys in our home and I wouldn't have it any other way. The dogs sleep with our youngest, they trail him for treats (one bite for him, two bites for them!) and they love to cuddle with you (our puppy has no concept of personal space and I wouldn't have it any other way). They have an amazing way of teaching us about true love and trust, and this is the lesson I want my children to learn.
What I have never understood is how there are people in this world who don't see this. Who don't offer these perfect animals back the same love that they offer us. My heart broke for Isosceles and the thought of him never knowing the inside of a home and never given the affection that he truly deserved. Animals don't deserve to be lonely, they are such friendly and social creatures – especially dogs.
I loved that this story told the beauty of adopting a shelter pet. Shelter pets are special, loving and in need of a good home. I think we sometimes forget or worry that they will be more work or not as social because of their past. This is not true! They need that extra bit of love and who doesn't love showering a pet with love? With love, nurture and patience – their true nature emerges and they become the animal they were meant to be.
This is a beautiful story of rescue, hope and the building of trust through love and patience. A definite must read for all children (and some adults too!).
You can purchase a copy of this book on Amazon and more information on Kevin's website.
Rating: 5/5
About the Author
As a child, the author experienced a similar life condition as Isosceles. Not having much of a home, love or sense of protection and safety, he has a very special understanding of Isosceles' early years. As a diplomat of acupuncture and Oriental Medicine and an integrative health care practitioner for almost three decades, he recognizes the importance of the compassion essential in helping others; people and animals. The author's commitment to helping animals and humans, coupled with his passion for biochemistry, lead him to design a unique, patented, line of canine orthomolecular supplements to nurture dogs back to health in a natural way. One of his favorite quotes is, "With the eyes of a child we learn how to see"!
Disclosure: I received a copy of this book in order to facilitate this review. All opinions expressed are my own.