Open the pages of Knowledge Genius to find out what you know, and challenge yourself to learn even more!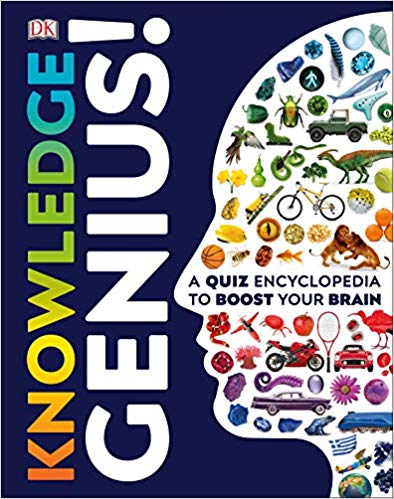 About Knowledge Genius
A fun general knowledge quiz book for kids – test their brain and see who will be crowned a genius!
Children won't be able to resist the Knowledge Genius brain-busting challenge. For every topic, pages are packed with eye-popping pictures – but do you know what they show? To help you, "Test Yourself" panels list what you're looking for. With three levels of difficulty, the challenge gets harder as you work your way from Starter, to Challenger, and finally the truly tricky Genius category. If you need it, there's a fun fact with every picture to give a helpful clue.
With more than 60 topics, from across the encyclopedia, there's something for everyone. Can you name the most famous rivers worldwide? Do you know your cranium from your clavicle, or do you need to bone up on the parts of the human skeleton? Are you a demon on dinosaurs, and able to spot the difference between an archaeopteryx and an allosaurus? Perhaps you're a brain box and can do all of this standing on your head? You can!
Our Thoughts
This amazing hard cover book was so much fun learning both together and on my own (I say on my own because I wanted to cheat a bit and study before we quizzed each other the second time!).
In order to use this book, you start off each chapter with learning about the basics of that chapters (chapters include: space, nature, geography, history and culture). Then comes the harder parts, you need to challenge yourself by looking at the test yourself section and then the quizzes. Each page has helpful pictures and clues to help guide you to your answer, along with increasingly difficult questions. You can find the answers at the bottom of each page upside down. Each chapter starts with its own picture quiz, which I didn't realize at first!
This is an excellent learning tool and activity to play together as a family and especially for those little ones who may not be always so keen on reading by themselves. They will truly enjoy the challenge of answering the questions, reading the clues and looking at the pictures. You definitely don't have to do the whole chapter at a time – you don't even have to go in order. The learning should be fun – I started with History which I love (and knew I could beat those kids with!!) but they loved the nature section. This will become a true family favourite in all homes.
You can purchase a copy of this book on Amazon and Indigo.
Disclosure: I received a copy of this book in order to facilitate this review. All opinions expressed are my own.