Law and Addiction Book Review
Law and Addiction is real-life drama at its finest ― a book that clears away the darkness page by page, spotlighting a profound truth about our society through expert storytelling.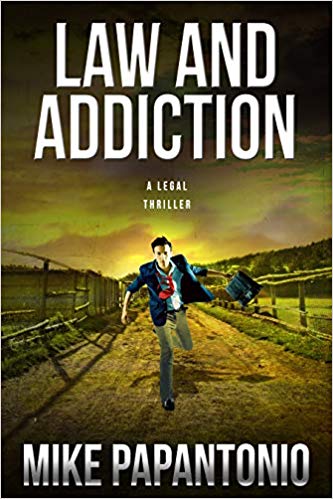 About Law and Addiction
One week before his law school graduation, Jake Rutledge is shattered. His fraternal twin, Blake, has died of a drug overdose. When Jake returns to his hometown of Oakley, West Virginia, he discovers that his brother was not the only person hooked on opioid painkillers. The entire region has been ravaged by an epidemic insidiously planned and carried out by one of America's most powerful pharmaceutical companies.
Still wet behind the ears, Jake is determined to seek justice for all the victims of Big Pharma's greed. He soon learns that the drug companies' tentacles reach far and deep. His only hope is to get Nicholas "Deke" Deketomis to help. A partner at one of the country's most powerful law firms, Deke's "as tough as a two-dollar steak" and well-known for his winning tactics against corporate wrongdoers. With just enough persistence, Jake coaxes Deke to see Oakley's devastation firsthand. Overwhelmed, Deke agrees to join forces with Jake.
And that's when the real heat begins. Death threats, bribes, unlawful property seizure schemes – all are connected to the massive distribution of both legal and illegal drugs. Everyone is impacted, from the highest levels of corporate America to corrupt local officials to their lackeys and hapless victims. The complexity of the schemes is overwhelming.
Working tirelessly, the lawyers begin to uncover the truth. Along the way, Jake falls in love with Anna Fowler, a former homecoming queen who has succumbed to the power of opioids. With his support, she weans herself off the drugs. Hope begins to bloom ― when suddenly, Jake disappears. As Deke undertakes a desperate search to find him, questions swirl. Has Jake abandoned Anna and his crusade? Can the case against the evildoers move forward without him? Will Oakley and its residents survive?
My Thoughts
Law and Addiction was an incredibly powerful, thought provoking novel. I was pulled right in from Chapter One and could not put it down. I felt a range of emotions throughout the novel, anger, compassion, hurt – but definitely a lot of anger.
The story begins with the death of Blake, Jake's fraternal twin from an overdose. Jake, who was just finishing law school, is shattered as he never saw the signs of addiction in his brother. He is left wondering how did this happen, could he have done more, should he have seen the signs and so many more emotions. His hometown has been ravaged by opioids – people he has known his whole life are struggling with addiction. The town has quickly become a 'zombie land', where there is no hope, poverty and the citizens are feeling the physical and mental damage from opioids. The book really brings home that addiction is not always what you believe it is – any one can suffer from addiction and we need to pull apart the stigma of addiction, so that they can receive help.
Jake (like so many of us), feels anger – anger for his brother and the people of this town. But when he starts to do some digging, the facts that he finds is astonishing and he knows that he wants to make a difference, to ensure that no one suffers the loss he felt. He is prepared to go to war with the pharmaceutical companies to ensure that this is stopped.
As he begins his lawsuit (with the help of two other lawyers) against the pharmacy companies, the story really speeds up. We uncover bribes, death threats, illegal distribution and the list goes on. The story has so many working parts but it never feels overwhelming. Instead, you realize how far people will go for financial gain and corporate greed. It leaves you feeling disappointed with people but with some hope that there are still good people out there fighting for the rights and protection of all people.
This is an amazing novel from start to finish – a definite must read novel. The plot was fantastic – not what I was expecting but incredible all the same. It was educational but entertaining, but definitely leaves you with a lot of food for thought.
You can purchase a copy of this book on Amazon.
Rating: 5/5
About the Autho
Mike Papantonio is a truth-teller, a crusader who uses fiction to entertain and inform his readers about some of the most pressing issues of our time. In each of his thrillers, from Law And Disorder to Law And Vengeance, and now Law And Addiction, he lays bare the conspiracies and white-collar crimes that hurt ordinary Americans ― and that are rarely covered by the national media.
A senior partner of Levin Papantonio, one of the country's largest plaintiffs' law firms, Papantonio uses his own cases as springboards for his novels. He has aggressively taken on Big Pharma, tobacco, weapon manufacturer, and the automobile industry, among other bastions of corporate greed.
One of the youngest inductees into the Trial Lawyer Hall of Fame, Papantonio is also a well- known media presence as host of America's Lawyer on the RT America television network and co-host of the syndicated radio show Ring of Fire. A skilled musician and athlete, he is based in Pensacola, Florida.
Disclosure: I received a digital copy of this book in order to facilitate this review. All opinions expressed are my own.