LEGO City© Busy Word Book Review

Our boys love LEGO, they love having the ability to build, create, design and act out daring adventures and more. LEGO fans will love the new book from DK Canada, LEGO City© Busy Word Book.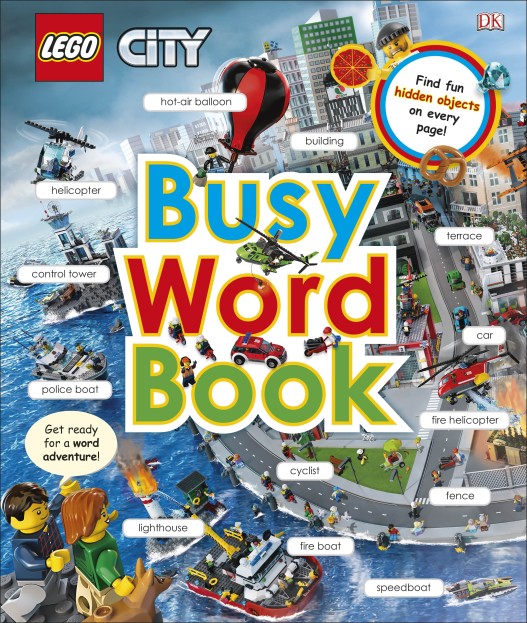 About LEGO City© Busy Word Book
More than 500 words about vehicles, buildings, jobs, and people label colorful LEGO© scenes and minifigures to help kids learn the building blocks of language.
LEGO City© is the perfect place for early readers to encounter lots of exciting words for the first time. There's always something happening, whether it's police officers catching crooks, firefighters training at the fire station, or hotdog vendors cooking up tasty snacks! Interactive activities such as spotting recurring characters and finding hidden objects keep children engaged and encourage repeat reading. Returning time and again to each page, children learn useful and fun words that they can use in daily life.
You can purchase a copy of this book on DK Canada.
Our Thoughts
This gorgeous, hard covered book will be a huge hit for LEGO fans. It is roughly 11×13 inches with sixty-four pages of colourful and bold images. The book covers every aspect of city life, emergency response crews and life outside the city. Children will easily recognize some of their favourite LEGO sets and minifigures in this book. It also gives you as a parent the opportunity to talk about these roles in real life – lets talk about the police that keep us safe, how we can stay safe at the beach and so on.
Each page has an introduction to the imagery as well as easy to read labels that will help encourage learning new words in your young child. Each page also has a "Can You Find" section, encouraging your child to find hidden images on the two page layout.
The LEGO CITY© Busy Word book is geared to children aged four to eight years of age and will make a great birthday, surprise and even Easter gift.
Disclosure: I received the above mentioned book in order to facilitate this review. All opinions expressed are my own.