Let Your Voice Be Heard With ProOpinion #ad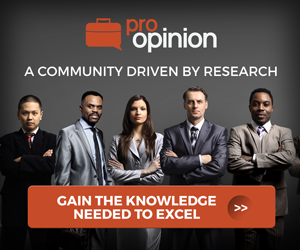 For the past year, I have been working on my Marketing Diploma and one of the first things that I learned as a student is that constructive feedback is an extremely important tool for companies and their marketing team. It allows them to evaluate their objectives to ensure they are meeting the needs of the most important people to their company – their consumers!
When we first think of marketing, I am sure images of advertisements, promotions come to mind. But an important part of marketing is understanding people and to do this you need to research your targets and know what they need. Marketing is at the end of the day, research based! If you don't know what your consumers want and need, you can't possibly succeed in bringing them a service. Knowing your market and understanding their concerns is essential in order to succeed. This presents its own problem – how do you connect with your consumers to find out what they are thinking?
ProOpinion is a community of thousands of business professionals and is driven by research. ProOpinion works with individuals all across the country through surveys that are designed to help understand why a product helps (or doesn't), what services are essential and why we shop the way we do. This information is so important – I can not stress this enough! As consumers, it is important for us to give companies feedback that will help them improve their products and services to us. A win-win situation for all!
So how does ProOpinion work?
First, you need to sign up on the site – which is free! Just head over to ProOpinion and look for the sign up button to complete this easy step.
Next is the easy part, just participate in the online surveys. The surveys are easy to complete and can be done online.
ProOpinion comes with a pretty awesome bonus, you are rewarded for the surveys you complete! You can use these rewards towards a variety of gift cards or even donate online to a charity.
If you are like me and want to provide feedback and insights for companies about what you love and what you could do without, make sure you head over to ProOpinion in order to provide this valuable information and be rewarded for doing so.
Do you participate in online surveys? Why or why not?
Your search for research that matters to you stops here – join ProOpinion today.
This is a sponsored conversation written by me on behalf of ProOpinion. The opinions and text are all mine.