Maternally Challenged: How My Special Needs Son Taught Me to Sack Up and Laugh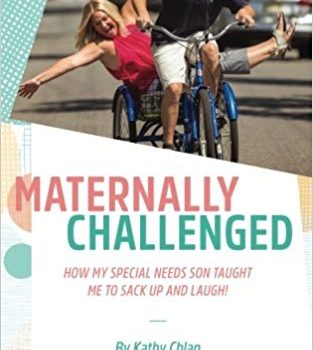 In Maternally Challenged, you'll discover:  That you aren't alone, all moms worry they don't know what they're doing!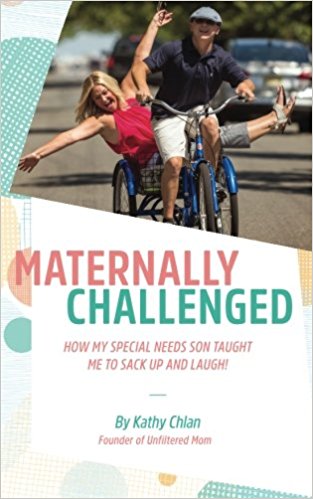 About Maternally Challenged: How My Special Needs Son Taught Me to Sack Up and Laugh
Are you parenting by the seat of your pants? Discover a new mindset to embrace the joy and madness of motherhood. Are your kids driving you crazy? Do you worry that despite your best efforts you still aren't doing enough?
As a mother of two with a special-needs son, author Kathy Chlan knows what you're going through. With her popular blog, Unfiltered Mom, Chlan has helped countless parents navigate the chaos of raising kids. And now she's here to help you!
Maternally Challenged: How My Special Needs Son Taught Me To Sack Up & Laugh! explores the day-to-day challenges of raising a special-needs child. Through heartwarming and hilarious personal accounts, you'll find that you aren't alone in dealing with family dysfunction. With Chlan's guidance, you'll learn methods to re-contextualize your troubles for a new outlook on parenthood and life. You may even start to laugh through the adversity. In Maternally Challenged, you'll discover: – That you aren't alone: all moms worry they don't know what they're doing – What steps you can take when life throws you a series of curveballs – How to stop dwelling on your mistakes and find time to appreciate the little victories – How to teach your special-needs child that using disability as a crutch is never an option – How to put terrible days and tantrums into greater perspective, and much, much more!
This book is your laugh-out-loud guide to making sense of motherhood. If you like practical advice, using laughter as medicine, and personal stories from one mom's journey, then you'll love Kathy Chlan's motivational resource. Buy Maternally Challenged today to start worrying less and laughing more!
My Thoughts
I started reading Maternally Challenged last night and could not put the book down. I laughed, I cried and my heart was full of joy. Kathy gets parents and gives a voice to everyone who is too scared to admit that yes we screw up, we yell, we make mistakes, we miss things and we are so far from perfect but our kids are happy and loved. I actually found myself laughing out loud at times when I was reading her book and my kids thought I was losing it, so I tried to explain to them what was so funny. It went over their heads but my husband even cracked a smile.
Maternally Challenged is the story of Kathy's journey through motherhood from just before she was married. We follow her pregnancy that was plagued with extreme morning sickness to a C-section at birth. It wasn't until they brought their son home that they realized something was wrong, from crying and curling up in pain all through the night to vomiting formula. This was just the start of what was to come – from a massive list of food allergies to alopecia and more. Their life became a whirl of doctors appointments, around the clock care and school for her son at an early age. Through it all, was the constant worry that all parents have – what can I be doing better, am I doing enough, should I try something different?
Their journey was emotionally exhausting (not to mention physically with all the driving from hospital to hospital). This could have worn them out and broken them. Instead they found the key to parenthood and to life in general. Admitting that yes this is going to be hard but laugh. Laugh when you feel like crying. Laugh when you feel like you can't give one more ounce. Laugh when things don't turn out like they planned. The road may not be perfect like we see on television but it is our road and we need to make the best out of it.
Maternally Challenged is a beautiful book full of humour, inspiration and guidance. You laugh out loud and you can completely relate to Kathy and her family (I loved how members of her family wrote a letter and it is included throughout the book – especially her brother's thoughts on Kathy as a child and her clothes!). While we all face different challenges, the lessons that Kathy teaches us can be used in any situation. This is a definite must read book for new parents and seasoned parents!
You can purchase a copy of this book on Amazon.
Rating: 5+/5
About the Author
"After years of being in the trenches of motherhood, I know how easy it is for your identity to get wrapped up in your kids. Now that mine are all out of the house, I'm a mom with new priorities: I'm trying to find me.
This is a place for moms to embrace the mistakes we've made (and continue to make) with no judgments while we navigate a new phase of life. It's dysfunction at its best. As a mother of two with a special needs son, I know what it's like to have a family that doesn't fit the mould—and I love it. My kids are the gifts that keep on giving.
I'm tipping a hat to my journalism past and sharing my perspective on the modern frontier for moms: treating yourself, finding your passions, saying no, and—of course—my family's crazy stories to help other moms realize that life isn't so bad. If you had a terrible day and screamed at your kid over Skype or in person, big deal. Here you'll find inspiration for moms who aren't sure about what they're doing. (And don't worry, there are a lot of us.)
We've all got adversities in life. My response? Laugh through it."
You can connect with Kathy on her blog Unfiltered Mom.
The Giveaway!
My Canadian and American readers can now enter to win their own copy of Maternally Challenged via the Rafflecopter form below – good luck!
Disclosure: I received a copy of this book in order to facilitate this review. All opinions expressed are my own.