Momentus: Small Acts, Big Change
Momentus: One person, one action, one moment can make a difference.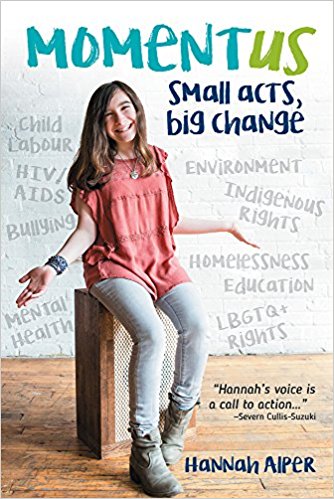 About Momentus: Small Acts, Big Change
One person, one action, one moment can make a difference. Momentus: Small Acts, Big Change provides tangible, real-life, and current examples that back up this idea. This book is more than a "how-to" guide―Hannah Alper gets to the heart of what sparks people to create change. A youth activist herself, Hannah explores the lives of the social activists who have inspired her and the significant impacts they are making locally and globally. Featuring 19 exclusive interviews conducted personally by Hannah with activists, youth change-makers, and celebrities, the book highlights practical examples of the power of positive change in the world, whether large or small. Hannah also shares her personal journey as a youth activist, blogger, motivational speaker, and WE Ambassador. Momentus: Small Acts, Big Change will motivate you to find your spark and give you the tools to make your change happen. "I believe we all have the capacity and responsibility to create change. I don't care how old you are or how young you are, where you live or how much money you have. The ability to create change does not discriminate, it's in everyone." ― Hannah Alper
My Thoughts
Being a young adult is hard – you have these amazing and creative ideas because you look at the world in a different manner than adults do but it is hard at times to get people to listen to you. You may feel like you are too young to accomplish the things you want, that your voice will not be loud enough, that your help wont make a difference and would your peers treat and look at you differently if you don't follow the norm?.
But what if our young adults (and pre-teens) are given the tools, the support and the encouragement to know that you can make a difference?
Momentus is an amazing story of a young girl who wanted to make a change and understood that it is little changes that make a huge impact and the world a better place. Hannah began her journey at the young age of nine! Yes nine – pretty amazing right?
I fell in love with the way that Hannah writes, she is so personal and has a way of reaching out to you from the pages. Her book feels more like a one on one conversation with her, with her there making you laugh, sharing the good and bad and encouraging you on your own journey. She shares both her good and not so good moments (like when her class mates can make unkind remarks about her 'changing the world') and I liked her honesty. This is a tough age for our youth when they are expected to act like adults but not always given the same independence in return. Sometimes they need that extra encouragement from someone who has already been there to help them along with their own journey.
The book is broken down with Hannah's role models and they are all incredible. It was very interesting learning about their stories, some of them I never knew about before. We learn about the issue that they are addressing (anything from homelessness to environment to bullying), what their special gift is and Hannah's reflection and suggestions on how you can help out in that area.
Momentus: Small Acts, Big Change is a truly special book written by a gifted young author. She has an amazing talent in writing and inspiring both youths and adults! This book is a must read for all young adults so that they can see even the smallest acts can make a great difference in this world.
You can purchase a copy of this book on Amazon and Chapters. You can purchase a copy in store at Indigo, Walmart, Shoppers Drug Mart and Mastermind.
Rating: 5/5
About the Author
As a young Canadian writer, activist, public speaker, and global citizen, Hannah Alper started her career in activism at the age of nine. Now 14 years old, Hannah has found power in using her voice to inspire, motivate, and empower people of all ages to identify their passion and take action for a better world. Her journey as a youth activist shows that when it comes to leading social change, there is no such thing as "too young." Perhaps best known as WE Day motivational speaker and WE Ambassador, Hannah is committed to promoting that big change begins with small, everyday actions.
You can connect with Hannah on her website, Twitter, Instagram and Facebook.
Disclosure: I received a copy of this book in order to facilitate this review. All opinions expressed are my own.