No Place Like You Book Review
In No Place Like You, can Zach find a way to convince Leah that they can make more than just great music together—and that she's the one that he wants for all time?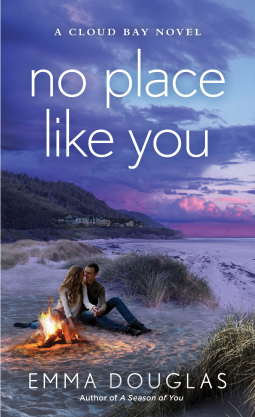 About No Place Like You
In Cloud Bay, home is where the heart is.
Leah Santelli always knew that Zach Harper, son of a rock legend and her best friend's brother, was painfully out of reach. Then, on the night of her eighteenth birthday, Leah shocked herself by asking for—and receiving—the gift she wanted: one night of passion with Zach before he left town to pursue his rock star dreams. Now, years later, Zach is back in Cloud Bay to record his first solo album. His return could also be Leah's big chance to step up her own music career. But getting the producing credit she needs means spending long hours with Zach in the recording studio…and falling back into the habit of longing for him, for better or worse.
Zach used to believe that a man must put his past behind him. But coming back home for Cloud Bay's famed music festival has allowed him to finally make amends with his family and, much to his surprise, reunite with Leah. He might have left her once but now it seems he can't stay away. Trouble is, even though the heat between them burns hotter than ever, Leah has old wounds in need of healing before she can give Zach a real chance. Can he find a way to convince her that they can make more than just great music together—and that she's the one that he wants for all time?
My Thoughts
I fell in love with this crazy, loving and very real family – the Harper's. They are children of a legendary rock star and this has shaped the way they think, feel and act. This is very much true for Zach Harper. He is an emotional person but is not very good at showing those emotions. While he has tried his hardest to run from his Dad's legacy and not be like his Father, he is finding himself more and more like him. This tends to scare him and sometimes cause him to ignore his actions out of fear. He does not want to be anything like his Father (and when you read the story you understand fully why!). He loved his children but wasn't there for them in the way a child needs.
Leah is a kind, strong, independent young woman who has just recovered from a divorce. Although it was a divorce they both agreed on, it still caused her pain that she hasn't quite worked through. She works in the music industry as a producer and is trying to make a name for herself. She not only wants to use Zach for breaking out in the industry but she also has strong feelings for him – something that she continually tries to deny to him, herself and her best friend Faith. It was very interesting to find out about their secret past that they kept hidden from everyone!
As Zach works on his relationship with his family, his relationship steams up with Leah. You can see the two falling in love but holding so much of themselves back from each other. They both seem too afraid to just let go. You are constantly on the edge of your seat guessing if they will take that leap of faith or continue to hold back.
No Place Like You is a well written story of hope, finding oneself, taking that second chance and trust. Our main characters have to work past their own fears and past history in order to move into the future – one that may just hold a lifetime of happiness and love. It is in their hands to have a happy future but they struggle with putting the past where it belongs – in the past.
I loved every moment of this novel and could not put it down! While it is book three in the Cloud Bay series, you don't have to read the other ones first but I highly recommend you do (look out for another review of a book in this series, A Season of You, coming October 17th). This book is set to release December 5th, 2017.
You can purchase a copy of this book on Amazon.
Rating: 5/5
About the Author
Emma Douglas has read like a wild thing since she was small. She discovered romance novels at an age that way probably way too young but she survived unscathed. When she realized you could make up stories as well as read them, she started taking notes about what the characters wandering through her head were telling her and then, eventually, books happened. Before the books happened she did the usual things (was a band geek (and a geek generally), had crushes on rock stars and fictional characters, spent chunks of her summers on an island beach, got a degree in something sensible that doesn't involve writing about kissing, became a black belt in internet procrastination, fell down the rabbit-hole of craft, traveled a bit, indulged her love of baked goods, got bossed around by cats, began a quest for the perfect margarita, and napped to recover from all of the above. She still does most of that plus the writing thing from a tiny house in Melbourne Australia which her feline overlords have kindly agreed to share with her.
Disclosure: I received a digital copy of this book in order to facilitate this review. All opinions expressed are my own.