One Tough Cowboy Book Review
First in a brand-new series from #1 New York Times bestselling author Lora Leigh and Veronica Chadwick about one man's pursuit of justice—and unbridled desire.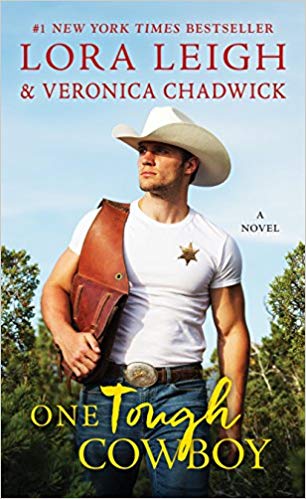 About One Tough Cowboy
For as long as Samantha can remember, Hunter—a man as strong as steel, with a heart of gold—has been her hero. It came as no surprise to Samantha when she found out that the ranch- hardened cowboy who always protected her from bullies went on to become the town's sheriff. What does surprise her is how incredibly hot he still is. And how much she still wants him.
And, lo and behold, Hunter still has feelings for Samantha. The long-smoldering heat of their innocent flirtation has grown into a full-raging fire. But when tragedy strikes, and their small-town community is shattered, Hunter vows to do everything he can to keep his childhood sweetheart safe. But can Samantha trust that Hunter has her best interests at heart…and that, after all these years, his love is true?
My Thoughts
We have two main characters in this story, Samantha and Hunter both of whom have a long history together. Hunter was her protector and someone she looked up to and also had a huge crush on. Hunter would do anything for Samantha, he had strong feelings for her before she moved away and they lasted long after she left.
Samantha returns home after a death in her family and she knew it would be difficult to see Hunter again as she wasn't sure how strong her feelings would be and how he would feel about her. She had nothing to worry about! Both of our characters had a strong chemistry that poured off the pages.
While we having their romance and intense chemistry brewing at the top of this story, we also have quite the plot developing underneath. There are a serious of deaths that on the surface look normal but Hunter believes there were more to these deaths, especially as they were personal. As Hunter and Samantha begin to investigate (not only do they have their personal history  both are members of the law enforcement!) we find a dark plot that has spanned several years and may have international ties.
This story was a good read, it was intense at times and I found myself having to re-read certain parts to ensure I understood the plot development. I loved the way the plot developed – I was not expecting the ending and it was perfect for this story.
The novel did have a lot of sexual content spread throughout the story so fair warning to those who may not enjoy that as much. It would be exciting to see the next chapter in Samantha and Hunter's relationship and what came of the ending to this story.
You can purchase a copy of this book on Amazon.
Rating: 4/5
About the Authors
#1 New York Times bestseller Lora Leigh is the author of the Navy SEALS, the Breeds, the Elite Ops, the Callahans, the Bound Hearts, and the Nauti series.
Veronica Chadwick started storytelling when she was a little girl. She was first published in 2004. She lives in Tennessee with three cats, a very spoiled Shih Tzu and two grand dogs. When she's not writing, she's hanging out with friends, reading or badly playing video games.
Disclosure: I received a digital copy of this book in order to facilitate this review. All opinions expressed are my own.