P. King Duckling: Seize the Day DVD Giveaway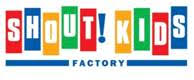 The adorable P. King Duckling is coming to DVD in a new title called Seize the Day! Get ready to explore, learn and challenge yourself when the DVD hit stores on September 12th, 2017 in the US and Canada.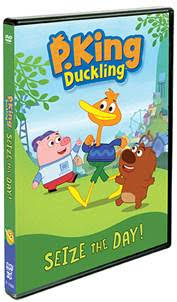 About P. King Duckling: Seize the Day
P. King is a duck with a dream. Actually, he's got a lot of dreams and his dreams change every day. One day he might see himself as an astronaut, a magician or a super hero! P. King encourages children to keep dreaming, imagining, and doing. From home-made race cars, to building robots, to re-designing the Eiffel Tower: P. King Duckling is all about arts, crafts, creativity and construction (something all young children love and can relate to!).
P. King is a slightly hapless young duck, and stars in the DVD with his two best friends, Chumpkins (a sarcastic pig) and Wombat (who helps P. King with his schemes even though she knows better)! Together, they work to "seize the day" – which always leads them to wild adventures and hilarious consequences!
Created by the award-winning Josh Selig (Sesame Street, Wonder Pets!) in collaboration with James Chen Gu, General Manager of UYoung Animation, P. King Duckling is a family experience that engages children in problem-solving and creative thinking.
The new preschool comedy series has a learning-focused curriculum created by media specialist, Dr. Christine Ricci (Dora the Explorer), that centers on overcoming challenges.
P. King Duckling: Seize the Day features seven episodes from Season One as well as an activity book. You can pre-order the DVD on Amazon and Shout Factory.
P. King Duckling is more than just an adorable animated show. This special duck teaches children to follow their dream, to never give up and to use their imagination. Creativity, self-expression and overcoming challenges are important yet sometimes difficult skills for children to learn. By using animal characters, humour and adventures, your child will be learning while having fun.
Ready to win a copy of P. King Duckling: Seize the Day!

My Canadian and American readers can now enter to win their own copy via the Rafflecopter form below – good luck!
Disclosure: I received a copy of this DVD, all opinions expressed are my own.