History tells his story. This is hers.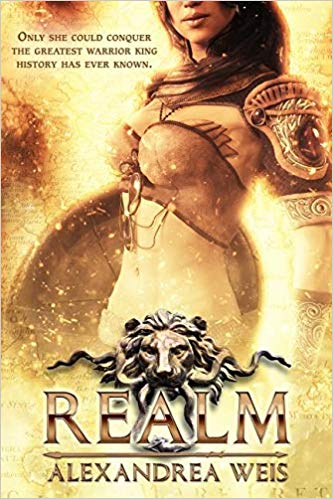 About Realm
When her homeland is conquered by the mighty Alexander the Great, Roxana—the daughter of a mere chieftain—is torn from her simple life and thrown into a world of war and intrigue.
Terrified, the sixteen-year-old girl of renowned beauty is brought before the greatest ruler the world has ever known. Her life is in his hands; her future his to decide.
Without formal education or noble blood, Roxana is chosen by the Greek conqueror to be his bride. Soon she comes to know profound happiness and unyielding desire in her warrior's arms.
However, being the king's consort comes at a heavy price. To survive her husband's treacherous kingdom, she must endure continuous warfare, deadly plots, jealous rivals, victory-hungry generals, and the stigma of being a barbarian. Persian blood will keep her from claiming the grandest title of all—queen—but her reign will seal the fate of an empire.
My Thoughts
I am a huge history fan and I love reading books set in this time period and this novel does not disappoint.
While the focus on so many novels is your strong, brave, fearless MALE hero – this novel takes a different approach. It follows Roxana's story who as a young girl at the tender age of sixteen marries Alexander the Great. Now you think with such a husband, she would be forced into the back burner of the story but her tale is unique. She is just as fearless as him and perhaps even stronger?
She is not of royal blood but is a strong young woman who has grown up learning to be independent, take care of herself and not to bend to societal rules. Her beauty is what first attracts Alexander's eye but it is her fierce determination, strength and confidence which sets them down the path of true love.
This path, while full of love, is also full of lies, war and constant struggle for power. She is caught up in the web of deceit many times and has to rely on herself only in order to survive. She is clever, strong, fierce and everything you want to be. You feel her pain when she loses her first child in labour and rejoice with her when she does give birth. Your heart is sore for her as she struggles for acceptance and to understand the politics and rules that guide her life. You hurt alongside her at the loss of her husband and when she is not allowed to grieve as she has to do everything to protect her child.
It is an incredible story from start to finish that you will not want to put down. I read this book in one sitting as I was just fascinated by her and her journey. This is a book that does not disappoint!
You can purchase a copy of this book on Amazon (releases May 14, 2019).
Rating: 5/5
About the Author
Alexandrea Weis is an advanced practice registered nurse who was born and raised in New Orleans. Having been brought up in the motion picture industry, she learned to tell stories from a different perspective and began writing at the age of eight. Infusing the rich tapestry of her hometown into her award-winning novels, she believes that creating vivid characters makes a story memorable. A permitted/certified wildlife rehabber with the Louisiana Wildlife and Fisheries, Weis rescues orphaned and injured wildlife. She lives with her husband and pets in New Orleans.
Disclosure: I received a digital copy of this book in order to facilitate this review. All opinions expressed are my own.