Rodale Celebrates a New Year, New You Review and Giveaway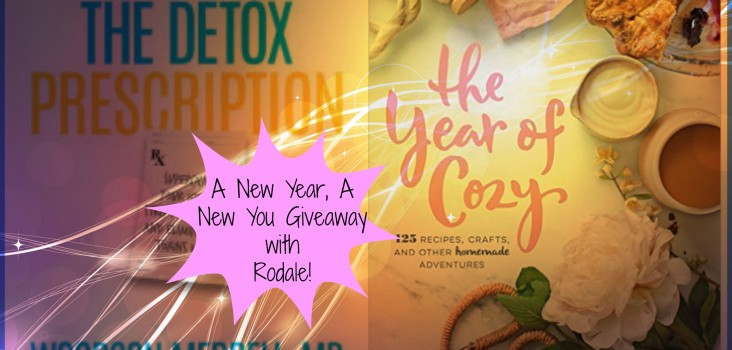 The new year is a great time to sit down and focus on what you want and need to accomplish during the year. Whether it is to focus on clean eating, getting active or leading a more natural lifestyle.
Books are a great resource for gathering ideas, recipes and encouragement to accomplish these goals. I was recently invited to review two new books from Rodale, The Year of Cozy and The Detox Prescription. Keep reading for my thoughts and enter to win your own copies of these two books!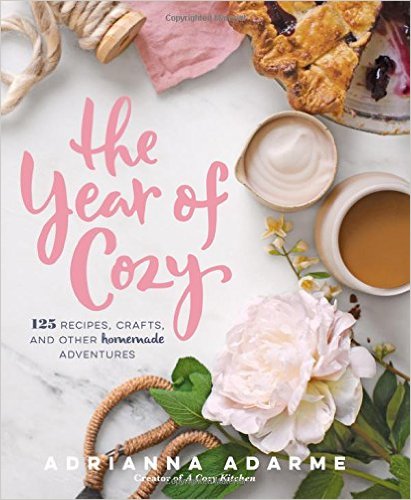 About The Year of Cozy
From the author of the popular blog, A Cozy Kitchen, comes a beautifully photographed one-stop-shop book with all the recipes and projects you'll need for some cozy inspiration this holiday season and all year-long. You'll love Adrianna Adarme's easy-to-follow instructions and will enjoy getting lost in her warm and comforting photographs. Organized by the months of the year and by categories as "Live," "Do," and "Make, " this book offers ideas for activities, recipes, and DIY projects that make the little moments in life just as exciting as the big. Adarme gives us special (but totally doable) things we can do for others and ourselves. From quick recipes to easy crafts, she focuses on simple, inexpensive undertakings that have a big reward: happiness. The Year of Cozy will surely inspire you to march into your kitchen and craft closet to make something you can truly be proud of.
My Thoughts
Adrianna has excellent writing skills and truly reaches out to her audience in a unique way to speak to them in a manner that we can relate to. The book contains 125 recipes, crafts and other homemade items that are divided by season.
The imagery is incredible, the recipes make you want to drool while the other images are breath-taking. All of the recipes and crafts are simple to follow and with items that you most likely have at home (so no going out having to stock a pantry!). Adrianna also includes easy notes and suggestions to help you with her recipes and crafts.
The Year of Cozy will be a great addition to your craft and recipe books in your home library.
You can purchase a copy of this book on Amazon.
Rating: 4/5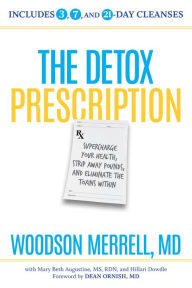 About The Detox Prescription
The human body has an extraordinary ability to detoxify itself. However, we live in a world that is increasingly polluted, exposing our bodies to thousands of harmful chemicals that lead to obesity, diabetes, arthritis, allergies, and heart disease. The good news is you can optimize your body's natural cleansing system for weight loss, greater energy, and better health.
In The Detox Prescription, Mary Beth Augustine, MS, RDN, and Woodson Merrell, MD, offer more than 100 delicious and nutrient-rich recipes incorporating juices and whole foods, broken into 3-, 7-, and 21-day cleanses. Dr. Merrell's holistic system of light yoga, meditation, and other stress-reducing practices will help reset your body, mind, and spirit–and allow for control of genetic destiny.
My Thoughts
I tend to be hesitant with any book that proclaims or uses words like detox, mainly as many times the detox is based on starving the body. What I loved most about the Detox Prescription is that this was one of the first topics it addressed, a detox should not be about starving the body! Instead it should focus on eliminating toxins from your environment and nourishing with healthy, nutrient rich foods. This is far more in line with my own beliefs that we need to feed our body nutrient rich items and to cherish our body.
The book spends several chapters going over toxins in the environment, how to eliminate them and what to look for before diving into the 'prescription'. The prescription comes in three forms: three, seven and twenty-one day cleanses. Each one of these cleanses prescribed in the book comes with recipes, suggestions and meal preparation guides. This made it easy to follow and understand. Meditation, cherishing and even yoga are prescribed as well!
The Detox Prescription is a great resource to start you off on the path to eating clean and nourishing your body with the food that it needs.
You can purchase a copy of the book on Amazon.
Rating: 5/5
The Giveaway!
My Canadian readers can now enter to win these two books from Rodale! You can enter via the Rafflecopter form below – GOOD LUCK!
Disclosure: I received the two books listed above in order to facilitate this review. All opinions expressed are my own.