The Rogue is Back in Town Book Review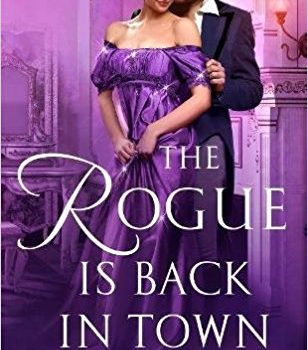 In Book 3 of The Wayward Wallflower series, The Rogue is Back in Town, Lord Samuel Travis is back and let the games begin!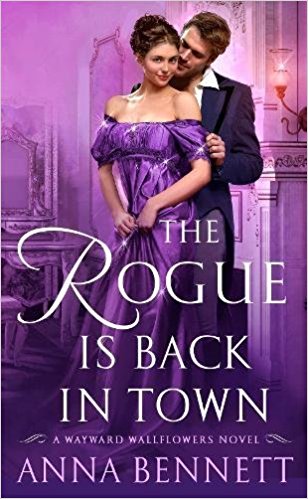 About The Rogue is Back in Town
Equal parts scoundrel and seducer, he's returned to London determined to mend the rift with his older brother. All Sam must do is take possession of a tumbledown town house. A seemingly simple task, except the house is occupied―by an infuriating, whip-smart beauty who refuses to do his bidding.
Miss Juliette Lacey's wallflower days are over. She has a plan to turn her eccentric family into the toast of the ton―but the devilishly handsome rake trying to oust them from their home thwarts her at every turn. How can one man be so vexing and make her simmer with desire?
As her attraction to Sam deepens, Julie's problems grow―she may have, once upon a time, secretly shared a kiss with his honorable older brother. Suddenly, Julie's caught between a rogue and a marquess, between passion and respectability. Torn between two brothers, what's a girl to do?
My Thoughts
I have truly enjoyed the Wayward Wallflower series, these ladies are not your damsel in distress nor are they your typical proper London young lady. They are brave, bold, unique and not afraid to speak their minds. They know what they want and are determined in their convictions. They are also fully supported by their family and close friends in these convictions which is what makes them an outsider by society standards but amazing in any one else's eyes.
In this story we have Juliette as our main character. She runs the home of her eccentric Uncle who took her and her sisters in when they were left alone in the world. While she is definitely young by any standards, she has given up on the thoughts of marriage especially after having her heart-broken by a man whom she thought was quite honourable.
Enter in Sam, who has one huge reputation with some of it earned and some of it not. His brother has given him one last task to redeem himself – evict the residents of a town home he has inherited. This home is Juliette's Uncles, which they believe was gifted to them on their marriage. What he fails to tell Sam, is that he has an infatuation with Juliette and kissed her the season before and left no promises.
As the plot develops, we see a new side of Sam and realize that things are not always as they seem. Those who seem honourable are actually out for blood and are hiding dark secrets. They would do anything to ruin anyone that steps in their way. Juliette begins a race against time to find the deed to the town house and prevent her Uncle's and her own life from crumbling apart. Sam has a huge decision to make – side with family or discover and honour the truth.
This was a well written and developed romance novel – the plot was very unique and fit the characters perfectly. This is one suspenseful romance you wont want to miss!
You can purchase a copy of this book on Amazon.
Rating: 5/5
About the Author
Anna Bennett started swiping romances from her mom's bookshelf as a teenager and decided that books with balls, dukes, and gowns were the best. So, when she had the chance to spend a semester in London she packed her bags―and promptly fell in love with the city, its history, and its pubs. She dreamed of writing romance,but somehow ended up a software analyst instead.
Fortunately, a few years and a few careers later, Anna found her way back to writing the stories she loves and won the Romance Writers of America's Golden Heart®. She lives in Maryland with her husband and three children,who try valiantly not to roll their eyes whenever she quotes Jane Austen. She is the author of My Brown-Eyed Earl.
Disclosure: I received a digital copy of this book in order to facilitate this review. All opinions expressed are my own.