Rogue Most Wanted is the next book in the sparkling, romantic Cavensham Heiress series by Janna MacGregor.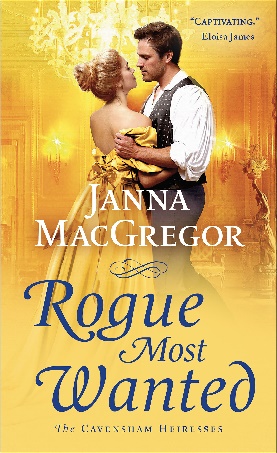 About Rogue Most Wanted
There's one creed all Cavensham men subscribe to: they fall in love completely and decidedly. But what happens when the woman you fall in love with swears she'll only marry you as a last resort?
Lady Theodora Worth needs to marry fast in order to keep her estate. It's been her heart and home for years, and she'll not lose it to anyone. There's just one problem—as a woman who was raised in isolation by her grandfather, she's completely incapable of pouring a cup of tea, never mind wooing a man. She'll need a little matchmaking help from her sprightly next-door neighbor in order to find a convenient husband.
Lord William Cavensham's heart was broken years ago, and since that day he vowed to never love again. But his spirited Great Aunt Stella is determined he'll marry or not inherit a single penny from her. And she's got just the woman in mind—her beautiful and completely hapless next-door neighbor, Thea.
Thea and Will agree there's no sense in marrying each other. Will wholeheartedly believes he's incapable of love, and Thea refuses to marry the first man she's practically met. But Will may be the rogue Thea wants the most after all.
My Thoughts
I fell in love with this beautiful story that made me laugh, cry and at times made my heart so sore.
Thea has a beautiful soul, she did everything she could do take care of her Grandfather and protect him from society especially as he declined in his later years. This took quite a toll on her and prevented her from being a part of society or securing a husband but this never stopped her from caring for him. It did however mean that she was lacking in terms of social graces. When her Grandfather passes and she risks losing her title and home to a greedy cousin, she must act quick to save her future.
Will, who was once full of passion and wanted nothing more than a home full of love and happiness, had his heart broken terribly and never recovered from this incident. He feels he can never love nor trust again. He becomes the victim of his Great Aunt's match making plans, which at first upsets him but then he finds he wants to help Thea.
While the pair seem to be mismatched, their friends and family have different plans for them and would love to see them married. We get to follow along as Will introduces Thea to society, protects and guides her through some awful experiences as well as watching the two of them open up again to love and hope. This is a beautiful story with excellent characters and an even better plot – I finished this novel in one sitting.
You can purchase a copy of this book on Amazon.
Rating: 5/5
About the Author
Janna MacGregor was born and raised in the bootheel of Missouri. She credits her darling mom for introducing her to the happily-ever-after world of romance novels. Janna writes stories where compelling and powerful heroines meet and fall in love with their equally matched heroes, and her novels include the Cavensham Heiresses series. She is the mother of triplets and lives in Kansas City with her very own dashing rogue, and two smug, but not surprisingly, perfect pugs.
Disclosure: I received a digital copy of this book in order to facilitate this review. All opinions expressed are my own.