Scot Under the Covers Book Review
The second in the seductive new Scottish historical romance Wild Wicked Highlanders series from New York Times bestselling author Suzanne Enoch!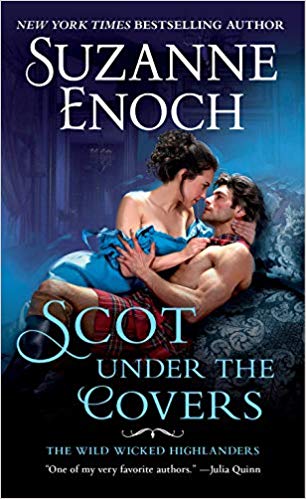 About Scot Under the Covers
In Scot Under the Covers, a resourceful English lady and a hot-blooded Highlander join forces to trick a scoundrel, and every rule will be broken!
Miranda Harris is known for her charm, wit, and ability to solve any problem she encounters. But when her brother lands neck-deep in gambling debt to a crafty villain and Miranda is subsequently blackmailed into marrying him, she must enlist the help of the devil himself to save the family honor―and herself.
Devilishly handsome Highlander Aden MacTaggert knows next to nothing about the ways of the ton, but he most certainly knows his way around gaming halls and womens' hearts. Still, Aden is not sure how he'll manage to find a Sassenach bride in time to save his family's inheritance. When his almost sister-in-law Miranda comes to him for assistance, he proposes a partnership: She will help him navigate London society and he'll teach her everything about wagering…and winning back her freedom. The beautiful, clever lass intrigues Aden―but is she playing her own game, or are the sparks between them real? He is accustomed to risking his pocket. But betting on Miranda's love is a game he can't afford to lose
My Thoughts
Scot Under The Covers starts off a bit slow as we learn about the MacTaggert brothers but it quickly picks up and leaves you on the edge of your seat through a series of lies, bribery, fights and romance.
The MacTaggert are rough around the edges and don't care about what anyone thinks about them or their Scottish heritage. Life was not always easy for them – their Mother left them for English society when they were young and now they were forced to head to England by their Mother to find wives (yikes – not an easy task for brothers who refuse to be tamed nor have any fondness for English society). While they appear to be hard on the outside (not to mention that they have been rumoured to love to gamble and place bets!), I was constantly amazed by the thoughtful, compassionate, perceptive nature that shone through (I actually really enjoyed the eldest brother's character and can't wait to learn more about him).
Aden falls and falls hard for the beautiful Miranda. Miranda though is not too sure of him – because of her family history, any man that gambles is not a person she wants to associate with. She has seen too many people fall victim to gambling debts and lose everything. So you can imagine how their first few encounters turned out! But Miranda is soon forced to put her future in Aden's hands when an evil character enters the plot who is threatening her and her future. But Miranda is still scared – can she truly trust Aden?
I loved the way this story turned out and it was definitely not what I was expecting at all from when I first started reading it. The characters had such great depth to them, Aden was so much more than the gambling, care free Scot that he was perceived to be. He went to great lengths to protect Miranda and he definitely ensured that the individual who was holding her at his mercy was punished and would never commit those crimes again. Miranda made me laugh so many times – she was brave, independent and did not mind saying what she felt. It is a beautiful novel, fast paced and full of intriguing characters, mystery and romance. I fell in love with the characters and read this book all in one night.
You can purchase a copy of this book on Amazon.
Rating: 5/5
About the Author
A native and current resident of Southern California, Suzanne Enoch loves movies almost as much as she loves books, with a special place in her heart for anything Star Wars. She has written more than fifty Regency novels and historical romances, which are regularly found on the New York Times bestseller list. When she is not busily working on her next book, Suzanne likes to contemplate interesting phenomena, like how the three guppies in her aquarium became 161 guppies in five months.
Disclosure: I received a digital copy of this book in order to facilitate this review. All opinions expressed are my own.