Scottish Witchcraft: A Complete Guide to Authentic Folklore, Spells, and Magickal Tools
Take a journey through the magickal folk traditions of Scotland in this wonderful book.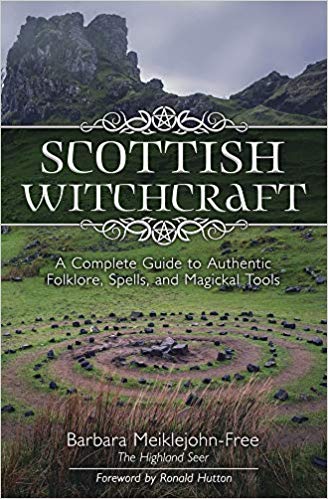 About Scottish Witchcraft: A Complete Guide to Authentic Folklore, Spells, and Magickal Tools
Take a journey through the magickal folk traditions of Scotland. Barbara Meiklejohn-Free, a Scottish hereditary witch, shares her own spiritual awakening into the craft and shows you how to integrate these practices into your own life. Discover the secrets of divination, scrying, faery magick, and communication with ancestors. Explore herb and plant lore and specific rituals to address what you most desire. Filled with inspiring anecdotes, craft history, and step-by-step instructions, this book will help you begin a new chapter of spiritual discovery.
My Thoughts
I have always been fascinated by Scottish heritage. I love reading books about the Highlands, the history and their people. I find so much of the history fascinating but heartbreaking as well. This beautiful book honours not only Barbara's craft but also her family history. She weaves their history throughout the story and encourages you to open your mind to a new method of thinking. I found the book moving in so many ways as it not only celebrates the beliefs and traditions but honours the Scottish people and acknowledges the hardships they faced – they were persecuted, sent away from their own lands and many times tried for their beliefs. My heart hurts for all that they lost but I admire how even in the face of that, so many are still working to preserve their heritage and beliefs and sharing it with others to ensure it is never lost.
This book covers several topics, including: thresholds and rituals, working with ancestors, seership and divination, staff, stone and earth, herbs and spells. I found with this book, I read the whole thing at once to get a good sense of what the book was about but then went back chapter by chapter taking my time and really diving into each topic (some days I spent more on one chapter to ensure I really understood it). I think it is important that you ensure you take your time, read each chapter and then read it again to ensure you understand her guidance and advice. I found I missed some parts the first time I read through a chapter, so this was important for me. Reading the book once and then a second and third time, really helped me to hone in on which areas interested me the most (I loved the section on herbs) and which areas I needed to learn more about.
I loved how Barbara introduces each topic with both a personal and historical account (her personal stories throughout the book are just wonderful and add a great touch to this book) along with practical applications and how we can approach this in real life while honouring those who came before us and our natural environment. I appreciated the part of thresholds and entering sacred spaces and touched me deeply. I remember to this day when I visited Rome and just walking the same path that so many have before me and entering historical sites and how this affected me emotionally and physically. During my visit, I felt like I was walking in another time and experiencing things for a second time. It left me feeling blessed and inspired.
This is a well written, thoughtful and incredible book that touches on a powerful subject area. This will make a great gift for those who want to be more in touch with themselves, the world around them, the Earth and those who have a strong interest in folklore, witchcraft and everything in between. There is something for everyone who wants to get in touch with their spiritual side in this book.
You can purchase a copy of this book on Amazon.
Rating: 5/5
About the Author
Barbara Meiklejohn-Free (United Kingdom) was born and raised in the Highlands of Scotland. She is an author, singer, drummer, flautist, and storyteller—all of which she employs in weaving together the ancient craft of the shaman, seer, and mystic. After the passing of her spiritual mentor, Barbara was bestowed the title of Highland Seer. She is also the cocreator of the Dark Goddess Oracle Cards, Witches' Kitchen Oracle Cards, and Witches' Wisdom Oracle Cards.
Disclosure: I received a copy of this book in order to facilitate this review. All opinions expressed are my own.